World news story
British Embassy celebrates the life and legacy of Shakespeare with "Hamlet"
The British Embassy and the Guatemalan artistic producer ESCENARTE, announced the launch of two seasons of performances of the play Hamlet to mark the 400th anniversary of the death of William Shakespeare.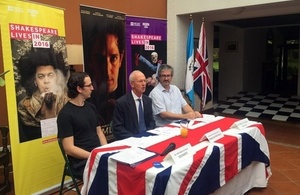 This unique campaign will run throughout June and July 2016 with the aim of bringing Shakespeare closer to Guatemalan students and the public in general, exploring the English author as a living writer who still speaks for all people and nations.
The first season will run from 30 June to 10 July for all audiences at a cost between Q125 and Q150 per ticket in the evening (7:30 PM). The second season will kick off on the 18th until the 22nd of July and is intended for a student audience from 12 to 17 years old at a cost of Q30 to Q50 on a daytime schedule (9 AM and 11:30 AM). All the presentations will be held at the SOLO TEATRO facilities in Zone 13. Tickets are for sale here.
The Tragedy of Hamlet, Prince of Denmark, often shortened to Hamlet, is a tragedy written by William Shakespeare. Set in the Kingdom of Denmark, the play dramatises the revenge Prince Hamlet is called to wreak upon his uncle, Claudius, by the ghost of Hamlet's father, King Hamlet. Claudius had murdered his own brother and seized the throne, also marrying his deceased brother's widow. Hamlet is Shakespeare's longest play, and is ranked among the most powerful and influential tragedies in English literature.
The objective of the cast and the director, the internationally awarded Horacio Almada, is to challenge misconceived perceptions around classic plays. A new and modern setup of Hamlet will allow a talented group of 11 actors to translate Shakespeare into a set of human conditions that are still valid today.
To mark the event, Thomas Carter, British Ambassador to Guatemala, said:
This year's four hundredth anniversary of the death of William Shakespeare is not just an opportunity to commemorate one of the greatest playwrights of all time. It is a moment to celebrate the extraordinary ongoing influence of a man whose most exiting legacy is his capacity to educate. His words, his plots and his characters continue to inspire much of our culture and wider society. Shakespeare also played a critical role in shaping modern English and helping to make it the world's language. So, building mutual understanding of each others' cultures is a really important part of international relations. I'm particularly pleased that this event brings the UK together with Guatemalan students and public in general. Please enjoy this opportunity.
Published 9 June 2016