World news story
British Embassy Celebrates the 90th Birthday of Her Majesty Queen Elizabeth II
British Ambassador Matthew Lodge held a reception at the British Embassy in Kuwait to celebrate the 90th Birthday of HM Queen Elizabeth II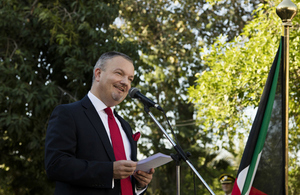 In celebration of Her Majesty Queen Elizabeth II's Birthday, the British Embassy Kuwait held a reception at the Ambassador's Residence, attended by Guest of Honour Minister of State for Cabinet Affairs HE Sheikh Mohammed Al-Abdullah Al-Sabah. Also present were current and former MPs, Ministers, Ambassadors, business leaders, civil society actors, media personalities and representatives from both the British and local community in Kuwait.
Addressing his guests, British Ambassador Matthew Lodge thanked partners and guests for supporting this year's celebration, and said:
We are here to celebrate the 90th birthday of Her Majesty Queen Elizabeth II, born on 21 April in 1926. It is a huge honour and a privilege to stand in the beautiful gardens of this historic residence as British Ambassador on such a happy occasion. For nearly 20 months, I have observed firsthand the close relationship between our two countries and have seen the depth and breadth of the ties that connect us. Even if I were to talk for hours, I could not cover the full range of those ties.
We were privileged at the start of the year to join in the celebration of the 55th anniversary of independence, 25th anniversary of liberation, and the 10th anniversary of His Highness The Amir Sheikh Sabah Al-Ahmad Al-Jaber Al-Sabah's ascension to the throne.
On this, Her Majesty's 90th birthday, the British Embassy is proud to honour the United Kingdom's longest serving monarch, and celebrate with Her Majesty Queen Elizabeth II on this happy day. The reception was attended by over 500 guests who were kept entertained by the musical talents of The Pipes and Drums of The Black Watch, 3rd Battalion - The Royal Regiment of Scotland.
Published 22 April 2016