World news story
British Embassy Buenos Aires launches call for project bids for 2017
The British Embassy invites all interested parties to submit their proposals for the British Embassy Buenos Aires Project Fund 2017.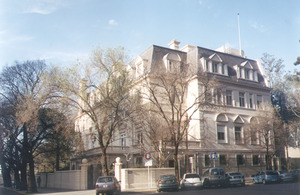 Overview
The British Embassy has been provisionally allocated programme funds for UK financial year 2017/2018. The fund is part of the UK's total Official Development Assistance (ODA) commitment of 0.7% of GNI.
The British Embassy will now run a competitive bidding process in order to ensure we use our provisional allocation for projects that are of high quality and deliver value for money.
The timetable for all bids is below. Our process will consist of a one stage full bid proposal. The deadline for submission of full bids is Friday 7 April 2017. All funded projects must be completed by 22 December 2017.
Typical projects normally range in value from ARG$500,000 - $800,000.
All funds will focus on supporting programmes linked with our priorities.
Documents:
Priorities for 2017
The fund will focus on the following priority areas and all project proposals should be able to establish a clear and identifiable link between the activities planned and the expected results:
Promoting Prosperity: Transparency, Anti-Corruption and Financial Crime
tackling corruption; delivering Argentina's Anti-corruption Summit commitments; meeting OECD's standards on anti-bribery, corruption and money laundering
improving transparency in public procurement systems
improving effectiveness and transparency of economic policy making
tackling organised crime groups particularly by responding to illegal financial activity and setting up effective asset recovery mechanisms
strengthening the competition policy framework and pro-competitive regulation
implementing economic policies to promote an open and competitive business environment, including trade facilitation
promoting transparency to combat protectionism
support for the resolution of investment barriers in Argentina
Financial Services Regulation development and enforcement of financial services regulation, including capacity building of regulators and banks
supporting Argentina in its roadmap for obtaining OECD membership
supporting Argentina's priority areas for its 2018 G20 Presidency
Energy, Mining, Infrastructure
capacity building and technical assistance for the implementation of the Public Private Partnerships (PPP) legislation and of projects focusing on public services and infrastructure
support for the design of Smart City strategies and innovative Smart City solutions
promotion of sustainable infrastructure and transport
transparency initiatives for public procurement and the construction sector
energy security and energy efficiency
mining: delivering policy/legislative guidance and innovation in the following areas:

environmental governance and community relations
waste management and related practices
Argentina's inclusion in the Extractive Industry Transparency Initiative (EITI)
mine remediation and closures
Promoting economic growth through science and innovation
support to develop and foster business opportunities and economic growth through science and innovation and the development of long term policies to promote innovation and competitiveness in key economic sectors: agritech, biotechnology, nanotechnology and ICT/smart cities
Human Rights, Democracy and Governance
promote good governance, human rights and democracy by:

strengthening institutions and adherence to the rule of law
promoting the inclusion of women, children and LGBT people
tackling modern day slavery/human trafficking
strengthening public administration and civil society

promoting parliamentary links
supporting judicial reform
supporting open government and open data initiatives
Who may bid? Eligibility criteria
In order to bid, your organisation or agency must demonstrate that it has previous experience in project management (preferably working with international agencies or organisations), sufficient technical, financial, personnel and logistical capacity. For example:
government institutions
non-governmental organisations (NGOs).
academia, think tanks, research institutes
community-based organisations.
Chambers of Commerce associations etc.
How to Bid
Our process will consist of a one stage full bid proposal.
Bids should be completed in English using the Project Bid Form and an Activity Based Budget should be submitted alongside it. Activity Based Budgets should list the activities needed to deliver the outcomes (results) of the project. See here for an example of an Activity Based Budget. Guidance for implementers on completing project forms can be found here.Please send all completed forms to buenosaires.projects@fco.gov.uk
Typical projects normally range in value from ARG$500,000 - $800,000.
Bid should highlight:
evidence of strategic fit with British Embassy priority areas
a well defined and specific aim of the proposal
a clear and identifiable link between the activities planned and the expected results
we are looking for practical interventions that will lead to a real and timely difference to decision making.
a detailed Activity Based Budget (proposals with no ABB will not be accepted). It should be clear what a certain expense refers to. Vague or seemingly excessive expenditure items will be challenged
evidence of support from the relevant Argentine stakeholders in order to deliver the expected outcomes.
any co-funding. This is not a requirement but should be encouraged
Any queries or questions prior to submission should also be sent to buenosaires.projects@fco.gov.uk
What cannot be bid for:
The project fund cannot be used to pay for items or support projects which are:
recurrent monthly costs (staff salaries, rents, bills or consumables)
projects that are purely of a political, military or religious nature
computers, sports equipment or text books
all flights should usually be economy class
consultancy fees included in projects will be closely monitored to ensure value for money and any project should not allocate the majority of funding for consultancy services.
After the bid
The bidding round is an open and competitive process, assessed by an Embassy Programme Board within the Embassy in Argentina.
Once a bid is approved a Grant Contract will be signed with all successful bidders. The implementing organisation will be required to submit quarterly reports and a final evaluation of the project. Within the monitoring work, due consideration should be given by the implementers to potential media coverage during the project's activities, which will be carried out in coordination with the Embassy's Communications Section.
Reimbursements will be done in quarterly arrears upon receipt of the quarterly reports. More frequent reimbursements could be arranged with prior agreement from the Embassy.
The budget must be presented in Argentine pesos.
All questions regarding the call for bids should be sent to buenosaires.project@fco.gov.uk
Indicative Timetable
| Date | Activity |
| --- | --- |
| 20 March | Call for bids opens |
| 7 April | Deadline for submission of full bids, including an Activity Based Budget (ABB) |
| 2 May | Announcement of results |
| May | Contracts and financial arrangements completed |
| May onwards | Projects begin |
| 22 December | Projects completed |
Published 20 March 2017
Last updated 28 March 2017
+ show all updates
Updated the Project Proposal form and the Activity Based Budget template.
First published.