World news story
British Embassy Budapest welcomes young security and defence experts
Embassy and members of Budapest's Center for Security and Defense Studies Foundation discuss foreign policy and work of the embassy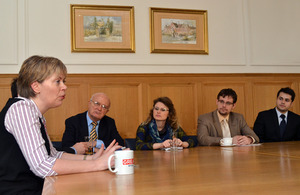 On 28 February Deputy Head of Mission (DHM) Theresa Bubbear welcomed members of the Center for Security and Defense Studies Foundation's youth chapter to the British Embassy.
In the one-hour-long discussion DHM Bubbear talked about the current priorities of the Foreign and Commonwealth Office, outlined the daily work of the embassy and explained how she had ended up becoming a diplomat.
Following her presentation the guests asked questions on security threats, UK-Hungarian relations and the embassy's activities in the field of human rights.
Further information
Published 24 April 2013