World news story
British Embassy Beijing celebrates the legacy of 2012 Olympic Games
This was published under the 2010 to 2015 Conservative and Liberal Democrat coalition government
On 29 July, British Ambassador to China, Sebastian Wood, hosted an event to mark the one year anniversary event of the London 2012 Olympics.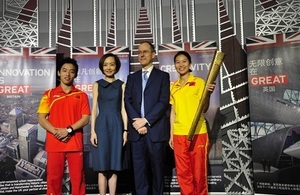 The theme of the evening was a celebration of the legacy of the London Games, with a particular focus on the Games as a blueprint for sustainable design and construction. The event was held in one of Beijing's newest iconic buildings, Parkview Green, which uses cutting-edge engineering provided by UK company Arup.
The event attracted over 100 guests from Beijing's business, government and advisory communities. Special guests included two of China's gold medal winners in London: Zou Kai (double gold medallist with the Men's Gymnastics Team and the Floor Exercise, and who holds the record for most Olympic gold medals won by any Chinese athlete in Olympic history) and Yi Siling (gold medallist in Shooting for the Women's 10m air rifle, and who was also the first gold medal winner of the London Games). Also in attendance were famous TV talk show host and London Olympic torchbearer Chen Luyu; Ministry of Foreign Affairs Director General Qin Gang; Parkview Green Chairman George Wong and artist Wang Luyang, whose solo exhibition 'Diagramming Allegory' provided the backdrop to the event in the Parkview Green exhibition hall, a private non-profit art institution.
The London 2012 Games were developed with sustainability as a core principle of the design and construction of the Olympic facilities and associated urban infrastructure. The results have been a ground-breaking reduction in C0₂emissions and new approaches to venue design, recycling, rainwater harvesting and supply chain management. London's example has provided a blueprint for future large-scale construction projects.
Recently published figures indicate the 2012 Games is responsible for a £9.9 billion trade and investment boost to the UK economy, one year into a four-year programme of activity and events which could reach up to £41 billion by 2020.
British Ambassador Sebastian Wood said:
I am delighted to celebrate the one year anniversary of the London Olympics. From the opening ceremony to the sporting events, we feel that it was a great advertisement for the UK. We are enormously proud of the success of the Games, especially the enduring legacy that will continue to benefit communities and businesses for decades to come.
UK engineering company Arup, behind many of the 2012 London Olympics venues including Zaha Hadid's Aquatics Centre, were also present at last night's event. Charles Pope, Associate Director at Arup, said:
London 2012 demonstrated that a Games can be not only sustainable, but also a catalyst for urban regeneration. The expertise in low-carbon design developed by Arup and other British companies can also be applied to projects in China, where sustainability is increasingly important and continued innovation will be essential if the country is to solve its environmental challenges.