World news story
British Embassy Bangkok partners with TRF and GSEI in hosting Global Warming Forum
The Forum "Geo-Politics on International Climate Change Negotiations" aims at raising public awareness.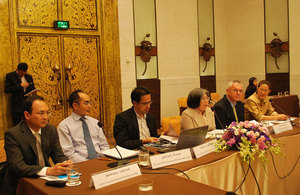 Recently, together with the Thailand Research Fund and the Good Governance for Social Development and the Environment Foundation (GSEI) British Embassy Bangkok jointly organised the 2nd Global Warming Forum on "Geo-Politics on International Climate Change Negotiations". The forum attracted over 70 people drawn from Government bodies, non-government organisations, universities and industry. The Forum focused on raising greater public awareness on the importance of mitigating climate change and the joint role that Thailand and the UK could play in this mitigation. The Embassy informed the Forum of the targets the UK has set itself and explained some of the work and, processes it has implemented to help it achieve sustainable, long-term carbon emission reductions and the preparations the UK government has prepared for when a new deal will be made after the Kyoto Protocol's 2nd commitment period expires in 2015.
Recognising that as the second largest economy and energy consumer in the ASEAN region , the Forum noted that Thailand is in a unique position to make a difference to mitigate harmful climate change. Although Thailand has set itself a target to reduce carbon emissions for the energy sector by 7%, the Forum recognised that collaboration would help Thailand make greater progress towards reducing Thailand's carbon emissions. And meet the ambitious targets proposed at the UN Framework Convention on Climate Change's 19th Conference of Parties (COP19) held in Warsaw, Poland last November.
Further information
Follow British Ambassador Mark Kent on twitter @KentBKK
Follow the British Embassy Bangkok on Twitter and Facebook
Published 10 February 2014