World news story
British Embassy answers questions about the EU in Moldova
British Embassy offers Moldovan citizens answers to EU related questions in its new project "GUIDE: European Union in Moldova"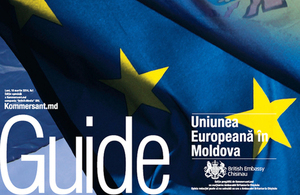 The British Embassy in Chisinau offers all Moldovan citizens the possibility to find the answers to questions with regard to the European Union through its project entitled "GUIDE: European Union in Moldova" produced in partnership with Kommersant.md.
If you have questions about the association process with the EU and whether salaries will increase or decrease after it, if you want to learn more about what exactly DCFTA means, if you are interested to know exactly why the EU supports reforms in Moldova and why the progress in fighting corruption is so slow, you can now find all the explanations in our GUIDE both in Romanian and in Russian!!!
You may have heard a lot of different things about all these bureaucratic terms: association, DCFTA, reforms, liberalisation. Many of these are associated with Moldova's successes on its European path, but a lot of Moldovan citizens know very little about the benefits of a European future. Instead you may have fears and concerns, or have heard rumours about the European Union and its role in your country.
The British Embassy in Moldova asks you to read this GUIDE and equip yourself with knowledge and arguments. For example, experts consider that after the association with the EU salaries of highly skilled Moldovan workers will increase by 4,4%, medium skilled workers by 6,5%, and unskilled workers by 5,9%.
The first edition of the "GUIDE: European Union in Moldova" explains in detail and figures the steps that Moldova has taken on its path towards European integration, what remains to be done and how the life of Moldovans will change after the association.
You can read and download the first edition of "GUIDE: European Union in Moldova" here in RO and here in RU.
EU Guide Rus (PDF, 7.19MB, 10 pages)
EU Guide Rom (PDF, 6.4MB, 10 pages)
You can also find hard copy editions of the GUIDE in your city halls, rayon councils, village councils and post offices in free distribution, whereas we will continue to provide you with answers in the next edition of GUIDE already in May.
Published 15 April 2014
Last updated 16 April 2014
+ show all updates
PDF files attached.
Added translation
First published.