World news story
British donation aids disabled swimmers
The British High Commission has donated a swimming pool hoist to the National Sports Council to assist people with disabilities in accessing the Roche Caiman swimming pool.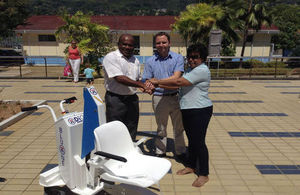 The donation was made by the acting British High Commissioner, Mr Dave Jones on Monday morning at Roche Caiman, where he was joined by the Principal Secretary for Youth, Mr Alain Volcere and athletes from Seychelles' Paralympic and Special Olympic teams.
The swimming pool hoist can be used by people with reduced mobility to get in and out of the swimming pool and it is hoped will increase the number of people with disabilities who make use of the pool.
The British High Commission's engagement with disability sports in Seychelles began at the London Paralympic games three years ago, which was attended by the Minister for Social Affairs, Community Development and Sports, Vincent Meriton. Minister Meriton's attendance of the London Paralympics began the process of the formation of Seychelles' Paralympic Association, which became the first new member of the International Paralympic Association following the London games.
"The joy of competition should be open to all. But disability sport is so much more than an end in itself. It can be a show case of talent; an expression of perseverance; a vibrant demonstration that people living with disabilities, both mental and physical, can strive, can achieve," "I believe that disability sports raises awareness of the capabilities of all people living with disabilities, not just the athletes competing on the field, on the track, or in the pool," said Mr Jones.
Published 17 August 2015