British diplomatic staff in Syria withdrawn
Foreign Secretary William Hague has announced that all diplomatic staff have been withdrawn from Damascus, and Embassy services suspended.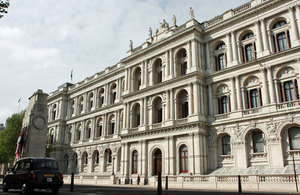 In a statement to Parliament the Foreign Secretary said:
"I wish to inform the House that I have taken the decision on security grounds to suspend the services of the British Embassy in Damascus and to withdraw all diplomatic staff.
We have maintained an Embassy in Damascus despite the violence to help us communicate with all parties in Syria and to provide insight into the situation on the ground. Throughout this time we have kept the security situation of our staff and Embassy premises under intense and constant review. We now judge that the deterioration of the security situation in Damascus puts our Embassy staff and premises at risk, and have taken the decision to withdraw staff accordingly. Our Ambassador and diplomatic staff left Syria on 29 February and will return to the UK shortly.
British Nationals who remain in Syria despite our longstanding and consistent message to leave the country should contact the Embassy of any remaining EU Member State if they require consular assistance.
My decision to withdraw staff from the British Embassy in Damascus in no way reduces the UK's commitment to active diplomacy to maintain pressure on the Assad regime to end the violence.
We will continue to work closely with other nations to coordinate diplomatic and economic pressure on the Syrian regime through the Friends of Syria group and the European Union, building on the new EU sanctions agreed on 27 February which will restrict further the regime's sources of revenue.
We will give full support to former UN Secretary General Kofi Annan in his role as the joint Special Envoy to Syria for the UN and the Arab League.
And we will also continue to work with the Syrian National Council, to encourage a more united and representative Syrian opposition and the vision of a peaceful, multiethnic and more democratic Syria."
Published 1 March 2012