British diplomacy in Africa: Ask the Foreign Secretary
After visiting Somalia and Kenya, Foreign Secretary William Hague answered your questions, via Twitter, about his visit and why Africa matters to the UK.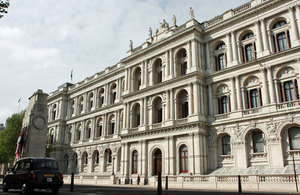 African countries and the African Union are increasingly dynamic diplomatic forces on the international stage. Africa has some of the world's fastest growing economies, and Britain exports more to the continent than to China and India combined.
At the same time millions of Africans still live below the poverty line, and conflict and terrorism are growing problems in some regions.
These are just some of the reasons why Africa matters to the UK government. The UK is hosting an international conference on Somalia on 23 February to help tackle the problems faced by the country.
See the transcript of the Twitter Q&A on the CoverItLive website
Published 6 February 2012