News story
British Development Secretary arrives in Tanzania
Secretary of State for International Development on first visit to Tanzania to see the impact of the UK's development efforts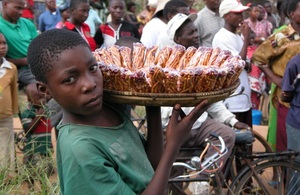 The UK's Secretary of State for International Development Justine Greening has arrived on her first visit to Tanzania to see the impact of the UK's development efforts.
She will visit Dar Es Salaam's Capital Markets and Securities Exchange and a large commercial rice plantation in Kilombero Valley to understand how the UK can help Tanzanian businesses to grow and create more jobs.
Justine Greening said: "I want to see for myself how Britain's development assistance can help end aid dependency through jobs and growth.
"Tanzania has huge potential. I am here to understand how the UK can help Tanzania make the most of its own resources, boost trade and help create the right environment for businesses to grow."
The visit follows this week's G8 meetings where the UK pledged to help developing countries collect the tax they are owed, promote trade and greater transparency around the use of land and natural resources.
The UK has pledged to invest £180 million in development assistance in Tanzania in 2013/14 to break the cycle of poverty.
By 2015, alongside its economic development programme, the UK will help 741,000 people to access financial services, give one million women a year access to family planning, give 650,000 people in rural areas access to clean water and distribute three million bednets to help prevent malaria.
Published 21 June 2013