British developers honoured at video game BAFTAs
Four awards and the Academy fellowship are presented to home-grown talent.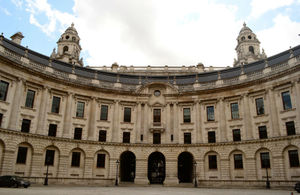 The companies behind some of the most popular video games of the past twelve months have been recognised at a glittering awards ceremony in London.
Game developers and publishers from around the world gathered for the annual British Academy Video Games Awards on Wednesday and it was a night to remember for some of Britain's foremost developers.
Codemasters Birmingham won the Sports BAFTA for the game F1 2010, an ultra-realistic simulation of the 2010 Formula One world championship. The Multiplayer award went to another racing game, Need for Speed: Hot Pursuit, developed by Criterion, the Guildford-based creators of the hit Burnout series. And Leicestershire-based Rare took home the Family BAFTA for Kinect Sports, which uses a new technology to allow players to play "controller-free".
In one of the highlights of the evening, Sir Ben Kingsley presented the Academy's highest honour, the Fellowship, to Peter Molyneux OBE. The Surrey-born game designer is one of the best-known names in the industry and the creative force behind major titles such as Populous, Dungeon Keeper and the Fable series. Cumulative sales of his games are at approximately fifteen million worldwide.
"I remember back in 1967 watching the first BAFTA awards on television with my family and seeing them being so excited about those accolades," Mr Molyneux said. "Never in my wildest dreams did I ever think it would be possible for me to accept one of the greatest honours the entertainment industry has to offer. My first thought on learning that I was awarded an Academy Fellowship was that to be in the company of some of the greatest talents the entertainment industry has ever seen is truly humbling and secondly that this is an award not just for myself, but for all the people I've ever worked with."
British talent was also represented in this year's BAFTA Ones to Watch Award, which went to That Game Studio, for Twang!, created as part of the University of Abertay Dundee's Dare to be Digital programme. The team behind the game included one of Abertay's own graduates, 23-year-old Brit Thomas Finlay.
The ceremony marked another successful year for the British game development industry, which is responsible for globally-successful titles such as Grand Theft Auto, the Tomb Raider series and one of 2010's BAFTA winners, Little Big Planet. Games made in UK studios generate global sales of about £1.7 billion a year and contribute about £400 million per annum to GDP.
Further information
Published 21 May 2012