World news story
British Deputy High Commission celebrates the Queen's 88th Birthday
This evening, the British Deputy High Commissioner, Karachi, John A. Tucknott MBE, hosted a reception at his Residence to celebrate Her Majesty Queen Elizabeth II's 88th birthday.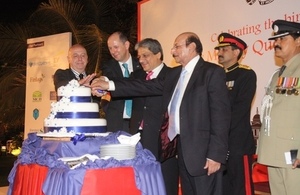 More than 500 dignitaries from the Government, military, civil society, the diplomatic corps, fashion, the media and business attended the red carpet event. The British High Commissioner to Pakistan, His Excellency Philip Barton CMG OBE, was also present.
2014 marks the 62nd anniversary of Her Majesty's accession to the throne, when she became both the British Sovereign and the Head of the Commonwealth. The British High Commissioner, His Excellency Philip Barton CMG OBE, the British Deputy High Commissioner- John A. Tucknott MBE and the Chief Guests, Chief Minister of Sindh – Syed Qiam Ali Shah and the Governor of Sindh – Dr. Ishrat-ul-Ibad toasted each other's Heads of State, while the national anthems of both countries were played, to mark this important occasion.
Speaking on the occasion of Her Majesty The Queen's birthday the British High Commissioner to Pakistan, His Excellency Philip Barton, said:
Her Majesty The Queen's Birthday is an occasion to reflect on the close ties between the UK and Pakistan. Pakistan came into being only shortly before Her Majesty became Queen and the enduring partnership between Pakistan and the UK has taken shape during her reign. It is a partnership that is set to become even more important as we continue to work together for the mutual prosperity and security of both our countries.
The UK has a very deep and broad relationship with Pakistan, from sporting and cultural links to education and business ties. Trade is central to our relationship. We are also investing heavily in Pakistan's education sector, with a particular focus on girls' education. Around one hundred thousand Pakistani students take British exams organised by the British Council every year, providing Pakistani young people with internationally recognised qualifications. By 2015, UK aid will benefit four million Pakistani children in school.
These continue to be challenging times for Pakistan and we pay tribute to its people who have sacrificed so much. The UK stands with Pakistan and its people as it tackles the evil of terrorism.
Our two countries are longstanding partners and have a long history. But our connections are as much about the present and the future - the one million people with close ties to Pakistan living in Britain today and the hundreds of thousands of our citizens who travel back and forth each year to work, study or simply for enjoyment.
ENDS
Contact: Press Department, British Deputy High Commission, Karachi; tel. 021-3-5827000
Published 24 April 2014
Last updated 28 April 2014
+ show all updates
Pic is added
First published.