British Defence Secretary statement on Kabul incident
"It is very clear that this was a concerted attempt to disrupt the successful transition. It was designed to disturb the Afghan people's state and the ability of the Afghan National Security Forces, and it will be unsuccessful on both fronts.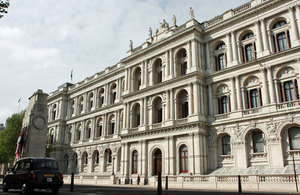 "Increasingly, the Afghan National Security Forces are able to maintain security, as they have shown on a number of occasions, and this very high profile attack by the Taleban very probably indicates the fact that they are having trouble maintaining that level of insurgency in many parts of the country.
"It is very difficult to take anything from a suicide bomber. Someone who is unwilling to attach any value to their own life is unlikely to attach any value to anyone else's. But this attack was not successful. They did not breach any secure areas and I think that it was a great testament to the fact that security is improving. As we have seen over the past couple of weeks, we have seen much lower levels of violence across Afghanistan, particularly Helmand."
Search the news archive
Published 14 September 2011