World news story
British Days in Ukraine
Earlier this year the British Ambassador invited representatives of British business, trade associations and media to his residence to launch British Days in Ukraine.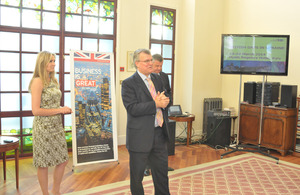 British Days in Ukraine 2014 is a major high profile event to showcase the best of British business excellence and expertise to businesses and consumers in Ukraine. As part of the wider 'Britain is GREAT' Campaign, the Embassy will be organising a series of B2B meetings, seminars and other events in March 2014.
BRITISH DAYS IN UKRAINE
19-22 March 2014
Hyatt Regency Hotel, Kyiv
CONCEPT
British Days in Ukraine is a major high-profile event to showcase the best of British business excellence to businesses and consumers. The event is planned as part of the wider 'Britain is GREAT' campaign.
EVENTS
A business programme will be at the heart of British Days. It will feature two days of B2B events in retail sector (Food & Drink, Lifestyle) followed by two days of exhibitions in ICT/Design/Technology and Education. The B2B events will be by invitation; the other events will be open to the public.
In addition, we will organise a range of seminars/policy meetings on potential themes such as agriculture, IT, energy, and economic benefits of the DCFTA, tackling corruption & bribery and urban regeneration. We will also arrange round table events with senior Ukrainian government officials.
There will be a wide range of social, cultural and sporting events both on the run up and during the main British Days programme. We aim for these to include an opening gala reception, a fashion show, other networking events, art exhibition, competitions, rugby cup, British film festival and British music concerts. Through some of these events, we want to reach out to the wider community, including children and the disabled.
MEDIA
We will have a comprehensive media strategy designed to promote British excellence to partners and consumers. It will include a targeted PR campaign around digital, visual and printed media.
SPONSORSHIP
We offer the following sponsorship opportunities:
General sponsorship (platinum/gold/silver)
Event sponsorship
Sponsors will benefit from a tailored package including (but not limited to):
VIP invitations to events;
prominent display of company logo or product throughout the British Days;
highly visible banners ads/links on the British Days homepage and subpages;
dedicated articles, interviews and references on the Embassy Facebook pages;
acknowledgment in pre-event and post event press releases;
speaker and moderator slots at specific events.
The Embassy is looking for sponsors and partners to work with to help deliver this major project. If you represent a British company, or are otherwise interested in working with us, and would like to discuss how you can get involved, please contact:
Mariya Kupriyanova, our Deputy Head of the Commercial Section, at (044) 4903660 or Mariya.Kupriyanova@fco.gov.uk (general information, commercial sponsorship opportunities)

Oleksiy Kurka, our Communications Co-ordinator, at (044) 4903660 or Oleksiy.Kurka@fco.gov.uk (information/media partnerships)
Published 18 June 2013
Last updated 24 June 2013
+ show all updates
Added translation
Added translation