British Counter-IED experts train Afghan teams in bomb disposal
Two British bomb disposal operators at the forefront of the fight against deadly improvised explosive devices (IEDs) in Afghanistan have been passing on their skills to Afghan police - so they can take forward the battle for peace and security in their own land.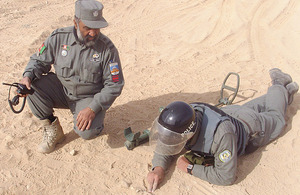 Soldiers from the British Counter-IED Task Force have just finished running a special course to train up members of the Afghan National Police (ANP) into an 'Explosive Hazard Reduction Team' with the ability to detect and render safe the Taliban roadside bombs which continue to blight Helmand province.
After several weeks of intensive instruction, Corporal Liam Payne and Corporal Aaron McGuffog trained six Afghan policemen. Following the success of the course - the first of its kind - plans are now afoot to train up more policemen to form additional ANP Explosive Hazard Reduction teams.
Corporal Payne said:
The guys we taught were enthusiastic and seemed to really enjoy the course. They all realised that it's dangerous work but that what they're doing will directly help the people of Afghanistan.
These guys are the first ANP Explosive Hazard Reduction team to be trained and the first police carrying out counter-IED work in Helmand province. They're seen as heroes in their communities and they are the envy of their colleagues.
Corporal McGuffog added:
Across Helmand, the focus of British forces now is training up our Afghan partners so that, in the future, they can defend their own country with less and less assistance from us.
Obviously the ability to tackle IEDs is a very important capability to have because IEDs are the insurgents' weapon of choice.
The Taliban are petrified of Afghan soldiers and cops having the ability to tackle their IEDs because they know that, while our time here is finite, the Afghan forces are here to stay. But they had better get used to it because these guys in the ANP want to defend their country and are massively enthusiastic about learning these skills.
Amongst the students was Private Sher Ahmad, an Afghan policeman based in Lashkar Gah, the capital of Helmand province. He said:
The course was very good - the best thing was learning how to use explosive charges to destroy IEDs. I now feel confident that I can do my job safely and I am doing this to help the people of Afghanistan.
I would like to continue doing Counter-IED training and go on more Explosive Ordnance Disposal courses so that I can become even more skilful like the experts from the British Army.
The team leader, Captain Khan Muhammad, also from Lashkar Gah, added:
This course benefited my team as they were only search trained before - they could find the IEDs but did not know how to deal with them. I volunteered for Counter-IED training to make Lashkar Gah a safer place. This is a very dangerous job but we do it for the safety of the people of Afghanistan. I am proud to be the commander of the first trained ANP Explosive Hazard Reduction team and I am very proud to be able to help the people of Helmand province.
Lieutenant Colonel Mark Davis, Commanding Officer of the C-IED Task Force, said:
We are enjoying tangible success in placing Afghan National Police and Afghan National Army bomb disposal operators up front, ahead of UK forces, to deal with IEDs. This bodes well for us handing over security responsibilities to the Afghans by 2014.
Published 4 January 2011