World news story
British Council launches Connecting Classrooms 3 programme
The Connecting Classrooms 3 programme, which was officially launched on 19 May, is expected to benefit more than 600 schools and 1500 teachers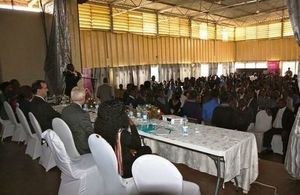 Speaking at the launch of the Connecting Classrooms 3 programme, British High Commissioner Fergus Cochrane-Dyet said:
"The school-linking programmes between Zambia and the UK represent our commitment, shared with our Zambian partners, to establish long term relationships not just between national governments but between communities in our two countries. The children learn about each others' cultures and lifestyles, which is part of developing a sense of global citizenship. This exciting project will enable school children in Zambia to meet "on-line" school children in the UK, and discuss their daily lives. They might even be able to help each other with their homework!"
More than 600 schools and 1500 teachers are expected to benefit from the core skills professional development training through the Connecting Classrooms 3 programme to be launched on 19 May 2016 by General Education Minister, Dr John Phiri.
Since 2012, more than 4,200 school partnerships have been developed between 19 countries in Sub-Saharan Africa and the UK. During this time, over 7,000 teachers have been trained in ICT, global citizenship and a range of skills to facilitate working in an international context. More than 1,500 school leaders have been trained in school leadership across the region. In Zambia, 17 digital hubs have been established around the country to enhance teaching and learining in schools, over 500 schools have participated in the programme over the past three years and 80 school leaders have participated in school leadership courses since 2012.
Wayne Harper, Country Director British Council said:
"Connecting Classrooms is a global education programme for schools, designed to help young people to develop the knowledge, skills and values to live and work in a globalised economy, and contribute responsibly both locally and globally. Teacher professional development training will be the biggest component of CC3, with a target to train 45,000 teachers globally and 3000 in Zambia between 2015-18."
Mrs Christine Mayondi Permanet Secretary of the Minisry of General Education said:
"We have worked with the British Council for many years now. It's a relationship that has generated a lot of impact in the classroom through a number of education programmes and I would like to thank you for the support to the Ministry over the years. This launch today solidifies our relationship. I believe that achieveing learning outcomes can only be successful if the Ministry works with partners such as the British Council. I am looking for ward to many more years of working with you to create impact in the lives of the Zambian children."
Further information
The British Council is the UK's international organisation for educational opportunities and cultural relations and has offices in more than 100 countries around the world.

Connecting Classroom is a global education programme for schools. It is designed to help young people learn about global issues and become responsible global citizens, as well as giving them the skills to work in a global economy. It offers school partnerships; professional development courses for teachers; accreditation; and the chance to share best practice with international counterparts.

Connecting Classrooms enables students, teachers, and district education authorities to develop intercultural skills, exchange information, knowledge and experience, as well develop joint curriculum projects.

We facilitate and fund the setup of digital hubs in schools, enhance teachers' knowledge and skills in the use of technology, and provide an online platform where schools can collaborate globally.
For further information, contact:
British Council
Aquarius House Katima Mulilo Road
P.O. Box 34571, Lusaka
Tel. +260 211 376700
Website: [www.britishcouncil.org/africa](http://www.britishcouncil.org/africa)

Published 19 May 2016