World news story
British Council DOSTI project wins International Peace Award
The DOSTI programme operates in Karachi to bring together vulnerable and ethnically diverse young boys and girls aged 12 to 18 in safe spaces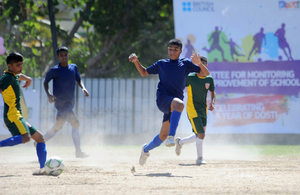 A Pakistani project has been announced as the winner of the 2015 Peace and Sport Awards ceremony in Monaco this week.
DOSTI, a British Council programme that uses sport to bring stability to young people in Pakistan has won the prestigious international prize for "Adapted Programme of the Year" at the Peace and Sports Awards.
The DOSTI programme operates in Karachi to bring together vulnerable and ethnically diverse young boys and girls aged 12 to 18 in safe spaces to be coached and trained through a Sports and Peace project.
These young leaders and peace advocates work with their own and other communities to promote conflict resolution, harmony and cohesion. The award was presented on at the 8th annual awards ceremony in Monaco, hosted by IAAF President Lord Coe, under the High Patronage of H.S.H. Prince Albert II of Monaco.
Shazia Khawar, the British Council's Director of Society in South Asia, said:
The British Council in Pakistan and the DOSTI Team are deeply honoured to have been recognised and acknowledged globally at this event and at having won this prestigious award. We believe that dialogue and compassion are better than violence and given the current context of spiralling levels of violence and conflict engaging young people to be peace champions has become even more critical.
The British Council's DOSTI project is active in eight locations or 'centres' in Karachi, targeting 12-18-year-old school-going and community youth. It is implemented by foundations, schools and community organisations with British Council support. The project helps young people and those living in high-conflict zones not only through sport, but also through courses on self-esteem, conflict resolution, substance misuse awareness, life skills, preparation for employment and re-integration into communities. In addition, there are targeted initiatives for groups that need extra support, such as young women and their mothers.
---
Contact:
Press Attaché, British High Commission, Islamabad; tel. 051 201 2000
Published 4 December 2015