World news story
British Council develops entrepreneurial skills of Uzbek students
Her Majesty's Ambassador George Edgar announced the winners of the 2014 Enterprise Award.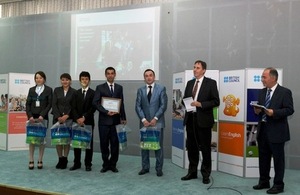 On 21 November 2014 Her Majesty's Ambassador George Edgar announced the winners of the 2014 Enterprise Award, a national competition designed to foster entrepreneurial spirit among students of vocational colleges in Uzbekistan.
The competition has been organized by the British Council since 2008 and annually involves thousands of students from 14 regions of Uzbekistan. The contest targets senior students of vocational colleges and helps to improve their leadership, problem-solving, creative thinking, entrepreneurial, communication and planning skills. Participating in the competition students are able to develop their own business plan that outlines an innovative good or service designed for local market and how it will be produced and promoted.
On 21 November the British Council in collaboration with the Ministry of Higher and Secondary Specialized Education, Chamber of Commerce of Uzbekistan, Youth Movement "Kamolot" and the UNDP hosted the final round of the 2014 Enterprise Award held in Tashkent. The 11 members of the jury considered projects presented by 14 teams. The jury selected three best teams representing vocational colleges of Samarkand, Bukhara and Ferghana, who were granted cash awards to implement their business plans.
At the awards ceremony, Ambassador Edgar said:
I congratulate all the teams on the excellent quality of their projects, and the three winning teams in particular. Entrepreneurial skills and innovation are key to developing business in Uzbekistan, as in other countries.

I'm pleased that the British Government, through the British Council, is working closely with the Uzbek authorities to promote development of the skills needed in the modern marketplace.
Published 21 November 2014