British Consulate General in Ekaterinburg supports a World War II photo exhibition
The exhibition "Triumph and Tragedy of WWII" is now open in Ekaterinburg at the cinema concert hall "Kosmos". It will run until 30 May 2015.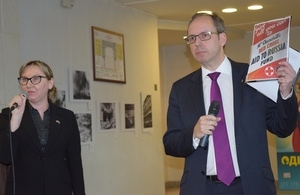 The exposition includes images printed from the files provided by London's Imperial War Museum, the US National Archive and the US Library of Congress, and the State Archive of the Sverdlovsk region.
Speaking about the exhibition, Jon Sharp, Consul General in Ekaterinburg said:
You'll see photographs of Winston Churchill. I am reminded that his wife was in the Soviet Union in April 1945 as the war in Europe was nearing its end. She was visiting on a five-week goodwill tour at the invitation of the Soviet Government and Soviet Red Cross. Clementine Churchill had been the head of a campaign in the UK to raise funds for the Red Cross. The British public raised over £8 million (which is some £1.7 billion in today's money) to help the citizens of the Soviet Union. Winston and his wife were prolific letter writers. One of Winston Churchill's letters to his wife, which she received whilst in the Soviet Union 70 years ago this month, asked her to "please always speak of my earnest desire for continuing friendship of [the] British and Russian peoples and my resolve to work for it perseveringly.
The British Consulate in Ekaterinburg has worked to develop, preserve and strengthen that friendship between the British and Russian people for the last twenty years.
I won't pretend that it is always plain sailing. There will be strains and differences between our countries. But we will always share a common history in the joint struggle and sacrifice of our ancestors in the fight against Hitler and defeat of Nazi Germany".
The photographs, taken by British and American photographers, talk about events of World War II that are little-known in Russia, such as the battle of Britain, the campaigns in North Africa and the Pacific, D-Day and fighting in Western Germany.
The exhibition includes works by some of the greatest photographers of the 20th century, incuding Ansel Adams, Cecil Beaton, Robert Capa and Eugene Smith. Some of the images area often included in the anthologies of the most prominent photographs of all time.
Click here to see fifty images provided by the Imperial War Museum (London).
Published 28 April 2015