World news story
British Chevening Scholarships awarded to Honduran Scholars
A number of selected scholars from Honduras were given an official send-off, ahead of their departure to the UK, by the British Ambassador, Thomas Carter, at a reception in Tegucigalpa.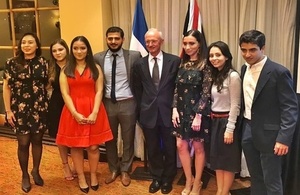 The UK is supporting seven Honduran scholars to study a one-year Master's degree in the UK, funded by the UK Government's prestigious Chevening Scholarship programme. The scholars who are off to study at some of the best universities in the world are:
Walter Javier Hernandez Cruz, Business Analysis, University College London
José Javier Davila Fortín, Business and Telecommunications, University College London
Sara Rivera, Control of infectious deceases, London School of Hygiene and Tropical Medicine
Elsa Ramirez, Business International Law, King's College London
Maria Luisa Izaguirre, International Administration, University of Bath
Melissa Ponce, Business Administration, University of Edinburgh
Joseline Bendeck Cooper, International Commercial Law, University of Glasgow
Chevening Scholarships are the UK Government's global scholarship programme, funded by the Foreign and Commonwealth Office (FCO) and partner organisations. The scholarships support study at UK universities –one-year master's degrees – for individuals with demonstrable potential to become future leaders, decision-makers, and opinion formers.
To mark the farewell event, the British Ambassador to Honduras, Thomas Carter, said:
I congratulate the seven Honduran scholars for gaining the prestigious Chevening scholarships to study for master's degrees in the UK. It is a very competitive process and they have done exceptionally well. For them, this is a lifetime opportunity to study at the UK's world class institutions of learning. The scholars will benefit academically and be able to broaden their outlook through living in the UK. Our aim is to support potential leaders of the future, and, when the scholars return to Honduras, we hope they will help transform the country to achieve its potential. We look to them within 10 years to be in positions of influence and making an impact.
The application window for the 2019/2020 Chevening Scholarships is now open and applications can be submitted through the online application system until 6 November 2018. For more details, please visit Chevening website.
Published 12 September 2018