World news story
British Chevening Scholarship awarded to 63 Pakistani scholars
The UK is sending 63 Pakistani scholars to study a one year master's programme in the UK, funded by the UK Government's prestigious Chevening programme.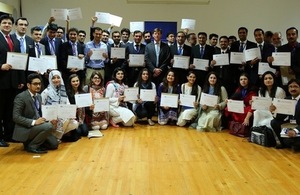 A number of the selected scholars were presented certificates, ahead of their departure to the UK, by the Acting British High Commissioner, Mr Richard Crowder, at a reception in Islamabad.
The reception was well attended by Chevening alumni, British High Commission and UK Aid officials and members of the Chevening Alumni Association of Pakistan.
The scholars come from all parts of the country, and will be studying a diverse range of subjects, including Governance & Democracy, Communication and Journalism, Gender Studies, Social Development, Public Administration, Law and Human Rights, Finance and Economics, Security and Counter Terrorism among others, at the top universities in the UK.
This year, one scholar from Pakistan has also been selected for The Oxford Centre of Islamic Studies (OCIS) Fellowship to undertake a six-month period of independent study and research at the Oxford Centre of Islamic Studies, focusing on the culture and civilisation of Islam and all aspects of contemporary Muslim societies in the global context.
While presenting the certificates, the Acting British High Commissioner Mr Richard Crowder said:
I congratulate the selected scholars on this fantastic achievement. 2017 marks the 70th Anniversary of UK-Pakistan relations and the Chevening Scholarship Programme is an important part of our strong relationship with Pakistan. Both the UK and Pakistan benefit from the sharing of ideas and learning that results from the Chevening Scholarship Programme.
This is an opportunity for scholars to gain knowledge from the world's most renowned universities in the UK and experience a dynamic, vibrant and multicultural society. I urge our scholars to explore and make the best use of their time in the UK, and experience UK's culture, heritage, landscape and people. The new experiences and knowledge will help them make a difference to Pakistan's future.
One of the selected scholars Mrs Shaista Nadeem, Superintendent Police Investigation Lahore, said:
I feel honoured to be selected for the Chevening Scholarship 2017-2018. I am looking forward to a year of learning and networking and to apply my knowledge in Pakistan on my return.
Since 1983, the Chevening Programme has sent over 1,400 scholars to study in the UK. Visit http://chevening.org/pakistan for detailed information on how to apply for Chevening scholarships for academic year 2018/2019. The application window for Chevening is open until 7 November, 2017 to receive applications for academic year 2018/2019.
Contact
Press Attaché
British High Commission
Islamabad
Tel. 051 201 2000

Notes to the editor
More information on the Chevening Programme is available at www.chevening.com/pakistan.
This year FCO awarded 1765 scholarships in 141 countries for postgraduate studies or research at UK universities.
The Chevening Scholarships are funded by the UK's Foreign and Commonwealth Office, and administered by the Association of Commonwealth Universities London.
Published 25 August 2017