World news story
British Charity in Moldova
From:

Part of:

Published:

29 June 2013

Last updated:

29 June 2013, see all updates
This was published under the 2010 to 2015 Conservative and Liberal Democrat coalition government
Information about activities of British charities in Moldova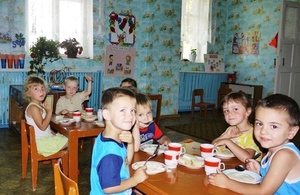 Christian Response to Eastern Europe (CR2EE) is one of about 20 British charities working in Moldova. CR2EE has been working here since 1997 providing essentials such as food, clothing, bedding and medical supplies to vulnerable people on the fringes of Moldovan society. It works across the country from Balti and Soroca in the north to Borceag in the Cahul district in the south and Gura Bicului in the east to Sipoteni in the west.
On 24 June Hugh Scudder (Trustee of the charity) showed the Embassy some of the activities of CR2EE in Moldova's second city, Balti, in the north of the country together with projects that it runs in the villages of Baroncea and Chetrosu.
Hugh showed us how CR2EE was providing relief to disadvantaged and vulnerable individuals, families and support organisations. For example, we saw how the charity:
is helping one single parent to send her child to kindergarten so that she can hold down a job during the day;

has provided running water for a vulnerable family;

completely renovated an old people's home installing running water and heating;

fully renovated a village kindergarten;

provided a house for a single parent and her family so that she was not left homeless;

has helped lift vulnerable families out of precarious situations

distributes clothing, bedding and medical equipment to individuals and organisations across Moldova free of charge.
Please visit CR2EE's website for ideas on how you can help vulnerable people in Moldova.
Document information
Published: 29 June 2013
Updated: 29 June 2013
An image related to the article has been added.
First published.