British Charge d'Affairs, Catherine Royle, Statement on the 10th Anniversary of the death of Ahmad Shah Massoud
Ahmed Shah Massoud was a hero to many Afghans. On this the 10th anniversary of his death, I join them in remembering his achievements. And in regretting how his life was tragically cut short.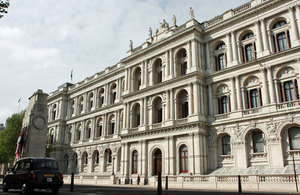 Massoud's death was quickly followed by other violent events in September 2001 that were soon to have a profound impact on Afghanistan. So as we remember Massoud, and mark the other anniversaries that will fall in the coming days and weeks, let us focus on honouring the fallen of the last ten years by continuing to work together to give hope to the next generation of Afghans. We will continue to support the Afghan people in your search for peace and political progress, and hope to see that process gain renewed vigour.
Search the news archive
Published 8 September 2011