British Chancellor of the Exchequer visit to the Occupied Palestinian Territories
British Chancellor of the Exchequer, George Osborne, met Palestinian Prime Minister Salam Fayyad at the British Consulate General in East Jerusalem on 28 October.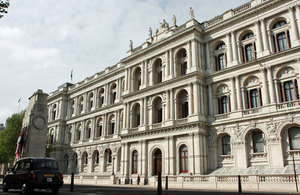 Dr Fayyad and Mr Osborne discussed the current Palestinian economic situation as well as the steps being taken to resolve the worldwide financial crisis. Mr Osborne stressed UK support for the Prime Minister's state building agenda and his plans for further economic reform, increasing Palestinian self-reliance.
Following the meeting Mr Osborne said:
"I am delighted to have had the honour to meet Dr Fayyad and congratulate him on the extraordinary progress President Mahmoud Abbas and he have achieved in building the institutions of State. I was very interested to hear his views on the challenges ahead for the Palestinian economy and his plans to tackle them, as well as to discuss the issue of wider financial reform. I am proud that the UK is continuing to support Dr Fayyad and the Palestinian Authority in its work and very pleased that Britain has pledged £262 million in support of Palestinian development over the next three years."
Published 28 October 2011