British Carnivore and Pangolin Conservationist to support Brunei's wildlife conservation efforts
British wildlife conservationist Ms Louise Fletcher is visiting Brunei from 16 to 21 February, sponsored by the British High Commission.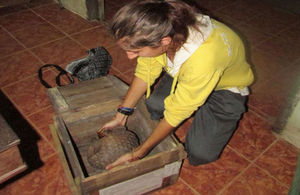 Louise Fletcher will be doing a number of public engagements with relevant government ministries and non-governmental organisations that focus on wildlife and conservation. She will also visit schools where she will conduct interactive workshops.
Louise is an individual who is passionate about the conservation of our natural environment, enthusiastic about the education of young people and a strong advocate of collaboration at both a national and international level. She just completed a contract working as a Field Research Advisor for the Carnivore and Pangolin Conservation Program based in Vietnam. Louise's role was coordinating and conducting the monitoring of released and rehabilitated trade confiscated pangolins. They assessed release as a viable placement option and collected ecological data on: home range size and stability; space use within home range; and den site requirements.
Louise said:
The conservation of our flora and fauna is a global issue and can only be achieved by acting as a united front. As a rare and elusive creature, severely threatened with extinction, sharing knowledge about the pangolin is imperative.

From this visit I hope that my experiences can help support Brunei in developing an effective conservation strategy for this species involving all key stakeholders.
She has worked on projects in many countries: South Africa, Honduras and Norway, as well as in the UK. In Africa she studied elephants and lions, she also studied leopard density in the Soutpansburg Mountains, where she also learned field skills.
The Acting British High Commissioner to Brunei, Mr Ben Boddy said:
Wildlife conservation is important to the United Kingdom and so we are delighted to be working with the Ministry of Industry and Primary Resources and environmental organisations to help conserve Brunei's unique flora and fauna.

Louise Fletcher will be working with local experts, students and nature enthusiasts to protect pangolins and raise awareness on Brunei's rich biodiversity which will be a valuable asset to help diversify the economy by creating green jobs and attracting tourists.
One of our priorities is wildlife conservation and ending the illegal wildlife trade following the London Conference last year which was hosted by the Foreign Secretary. In support of wildilfe conservation The Duke of Cambridge supports wildlife conservation and is the President of United for Wildlife. The other Royal patron of United for Wildlife are the Duchess of Cambridge and Prince Harry.
Published 12 February 2015