World news story
British business vision for a reformed EU presented in Croatia
Andy Bagnall from Confederation of British Industries presented "Our Global Future: the business vision for a reformed EU" in Zagreb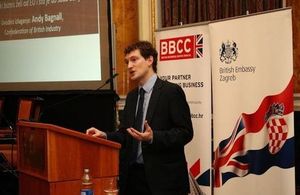 "Our Global Future: the business vision for a reformed EU" report, produced by the Confederation of British Industry (CBI), was presented in Zagreb on 4th December by Andy Bagnall, the CBI's Director of Campaigns and Governance.
The CBI is the UK's business lobbying organisation, providing a voice for British businesses in the UK and internationally.
The report assesses the UK's place in the changing global economy and measures the impact of EU membership on UK business. Andy's visit is one of the events organised by the British Embassy to explain what reforms the UK would like to see in the EU – and why.
The CBI found that while the EU needs to reform to face the challenges of a changing global economy, British business benefits hugely from the UK's membership of the EU. They estimated that membership of the EU is worth up to £ 3,000 every year to each UK household or between 4-5% of UK's GDP. They conclude that business wants the UK to remain in the European Union, but the EU has to change.
The CBI believes that the EU should be focusing on measures to boost growth by updating the Single Market for the 21st century and signing more trade deals; it must be more outward-looking, open and competitive and continue its work to reduce the burden of regulation, particularly for SMEs and micro-businesses. PM David Cameron spoke at the CBI Annual Conference last month. He said that the joint endeavour with British Businesses and British industry is vital for the UK's economic turnaround.
Andy Bagnall's visit has been jointly organised by British Business Centre Croatia, business weekly Lider and the British Embassy.
Published 5 December 2014