News story
British business must do 'everything it can' to improve working conditions in Bangladesh
One year on from the Rana Plaza tragedy, the UK continues to help British retailers source their clothes from safety-inspected factories.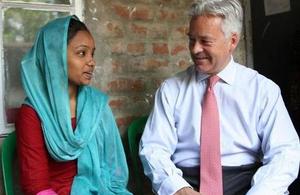 On the first anniversary of the tragic factory collapse in Bangladesh - which killed more than 1,100 people - Development Minister Alan Duncan called on British businesses to remain a force for good in the country.
To help retailers source their goods responsibly, Mr Duncan launched a new database of 'Ready Made Garments' factory inspections that will help them make informed choices about which factories they work with.
Part-funded with UK aid money, it will set out which factories have been inspected by big brand initiatives the Accord and the Alliance and by Bangladeshi experts from the Bangladesh University of Engineering and Technology. It will link to published inspections carried out by the Accord and Alliance.
There are currently 3,497 factories on the database, which lists the factory's name, address and registration number, the name of the owner, the type of work carried out, and the number of employees.
The database will soon show the outcomes of initial inspections into structural, fire and electrical safety, and new information will be added as more inspections are carried out.
Mr Duncan said British businesses which source from Bangladesh should use this anniversary to ask themselves whether there is more they can do to drive positive change in the garment sector, and ultimately play their part in avoiding a repeat of the devastating events of a year ago.
This includes:
contributing to the Rana Plaza Compensation Trust Fund. This currently has $15 million, but $40m is needed (around £24 million) to provide the compensation owed to the victims and their families
introducing more transparency into the supply chain by being clear about exactly where their clothes are produced throughout their supply chain, sharing information between themselves, workers' organisations and with consumers and having open and honest discussions with manufacturers about the real costs of production
listening to their customers. Consumers are keeping up pressure on retailers, and businesses must make sure they keep responding. Around the UK people are marking the Rana Plaza anniversary with Fashion Revolution Day and calling for greater transparency in the fashion industry.
International Development Minister Alan Duncan said:
The tragic Rana Plaza factory collapse a year ago shone a spotlight on the appalling conditions that workers in the developing world endure to produce cheap clothes.

I was in Bangladesh just a few weeks ago and I saw for myself the progress that has been made. There have been improvements in building safety and working conditions and the responsibility buyers take for their supply chain, from the store right back to the sewing machine.

But we can't stop here. One year on, we all need to ask ourselves if we are doing everything we can, and this includes British businesses. They have the power to bring about profound and positive change, whether by paying into the compensation fund or making their supply chain even more transparent.
The UK has ramped up efforts to improve safety and working conditions in Bangladesh's garment sector since the disaster - working closely with retailers to encourage them to take responsibility for their supply chain.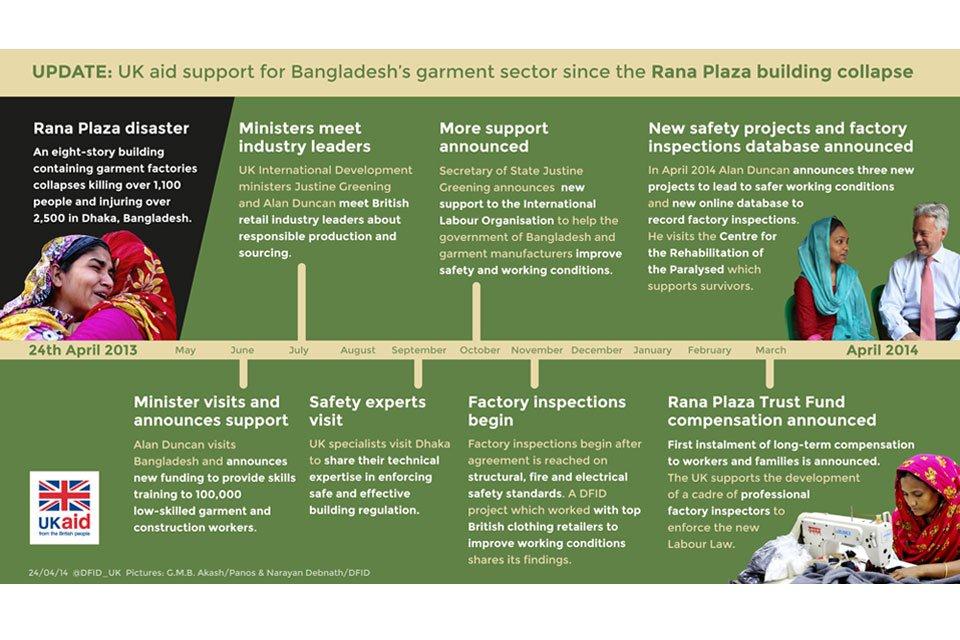 In July last year Secretary of State Justine Greening and Minister of State Alan Duncan convened a summit bringing together 20 top British business leaders from the retail industry to discuss how they can work with the government to improve supply chains to ensure clothes are produced responsibly.
In September, DFID deployed a team of UK experts from the Better Regulation Delivery Office and the Royal Institution of Chartered Surveyors to Dhaka to share their wealth of experience in safe and effective building regulation to help prevent future tragedies and save lives.
British businesses have made real progress in the last year. Primark have recently made an additional contribution to the central compensation fund, and started paying out long-term compensation to the workers at the factory within Rana Plaza that it sourced from.
Published 24 April 2014
Last updated 28 April 2014
+ show all updates
Link to the Ready Made Garments database added: http://database.dife.gov.bd/factories
First published.