British Business Embassy opens with Global Investment Conference
During the London 2012 Olympic and Paralympic Games, the British Business Embassy will showcase the UK to world leaders, policy makers and investors.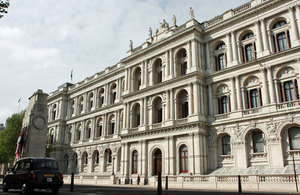 The Global Investment Conference is the first of a series of global business summits being held in London at the British Business Embassy at Lancaster House.
The Conference brings together more than 200 business leaders, policy-makers, and investors to harness the business benefit of the 2012 Games and encourage long term partnerships.
Global economic issues are on the agenda for the day, with speakers including International Monetary Fund (IMF) Managing Director Christine Lagarde, Organisation for Economic Co-operation and Development (OECD) Secretary General Angel Gurria and Bank of England Governor Sir Mervyn King.
Read more about the Global Investment Conference.
British Business Embassy
The Global Investment Conference is the first of 17 days of global business summits that will be held over the course of the London 2012 Olympic and Paralympic Games to showcase the UK to the international community.
Summits will be held to promote key UK business sectors, as well as two country summits focussing on trade with China and Brazil. The programme, organised by UK Trade & Investment, is expected to generate £1 billion in future benefit for UK businesses, and UK and international firms will use this platform as an opportunity to announce deals worth more than another £1 billion in total.
The summits will be the largest and most ambitious set of trade and investment events ever held in this country.
Read more about the British Business Embassy.
You can watch live video from the British Business Embassy here, and follow the latest updates on Twitter @BritBizClub.
.
Published 26 July 2012