World news story
British Brands Exhibition brings a taste of Britain to Qingdao
From:

Part of:

Published:

11 March 2014

Last updated:

12 March 2014, see all updates
This was published under the 2010 to 2015 Conservative and Liberal Democrat coalition government
The GREAT British Brands Exhibition opens its doors to discerning shoppers today (11 March) in Qingdao's Licang Wanda Plaza.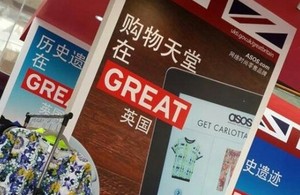 The exhibition showcases some of the UK's most stylish new labels as well as much-loved traditional brands, and coincides with the arrival of the GREAT Britain yacht at the Qingdao Olympic Sailing Centre.
Running from 11-16 March, the Exhibition features a breadth of brands, some of which are already well known to the Chinese shopper and others which are newer to China. The Exhibition demonstrates British creative and innovative strengths in retail across a range of sectors from fashion to automotive to food and drink.
Shoppers will be able to buy directly from each of the exhibiting British companies. They will also be encouraged to be 'snap-happy' with friends and family around the exhibition space by taking photos with a model of the Clipper yacht and share them on Weibo. The Beijing Beatles and pupils at Malvern College will provide musical entertainment.
The exhibition brings together a broad range of brands: ASOS, Kinloch Anderson and Marks & Spencer in the Fashion sector; Brompton Bikes and Moulton Bikes represent Leisure; ESTATE brings Luxury to the exhibition; Queen Anne Silverware, Carrs and Duresta Furniture provide a Homewares element; PFB Trading will bring beer and cheese to hungry shoppers; and finally Mothercare will appeal to the 'tinier' shoppers of Licang Wanda Mall. Two latest British car models are also on display at the Exhibition: a Range Rover Evoque and a Jaguar F-TYPE.
The GREAT British Brand Exhibition takes place as the GREAT Britain yacht docks at the Qingdao Olympic Sailing Center. The GREAT Britain yacht has been part of the Round the World Clipper Race, which started in September 2013 from British shores. The yacht provides an opportunity for some of Britain's strongest brands to help deliver a sporting legacy, whilst celebrating Britain's heritage as a maritime nation and capturing the British sense of adventure.
Document information
Published: 11 March 2014
Updated: 12 March 2014
Added translation
First published.