British-Australian co-operation helps deliver extra armour to Afghanistan
British soldiers battling the Taliban in Afghanistan will get better protection from attacks by insurgents thanks in part to the teamwork shown by the RAF and the Australian Defence Force.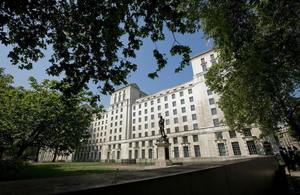 Troops in Helmand province have now taken early delivery of the new 20-foot-long (6m) Wolfhound variant of the Cougar armoured fighting vehicle thanks to close co-operation between coalition allies.
The RAF's strategic air transport hub in the Middle East is currently a hive of activity due to the Royal Marines from 3 Commando Brigade taking over from the soldiers from 16 Air Assault Brigade in Afghanistan who have completed their six-month tour of duty.
But an offer of help from the Australian Defence Force to use one of its massive C-17 Globemaster aircraft meant that much-needed specialist vehicles, two Wolfhounds and an armoured repair vehicle were flown in too.
Squadron Leader Mark Clulo, Officer Commanding B Flight, 901 Expeditionary Air Wing, said:
The sheer size and weight of each Wolfhound vehicle means the only aircraft capable of moving them is the Royal Air Force's, or in this case, the Royal Australian Air Force's C-17.
This generous offer of assistance from the Australian Government gave us a fantastic opportunity to push these vehicles onto the front line ahead of schedule.
The close working relationships we have forged with our Australian counterparts has brought real benefits to this project and future missions.
Although both Air Forces operate the same C-17 aircraft, it is not just as simple as driving the vehicle onto the aircraft and then strapping it down.
Meticulous planning is required to ensure that the load is evenly distributed to keep the aircraft in balance. This required close liaison between the UK and Australian load teams to ensure that proven UK procedures could apply to the Australian aircraft.
Major Lara Bullpitt-Troy, Officer Commanding the Joint Movements Coordination Centre - Middle East Area of Operations, from the Australian Joint Task Force 633, commented:
The opportunity to increase our interoperability has enabled us to enhance the positive relationship we have with the Royal Air Force.
Squadron Leader Clulo added:
The support we have received from both the Australian Army and the Royal Australian Air Force throughout this period has been fantastic.
Working together, we have overcome some significant obstacles to hopefully provide tangible benefits for troops on the ground in Afghanistan.
We have also shared perspectives, along with some merciless sports banter, and paved the way for closer integration in the future.
Published 11 April 2011