World news story
British Army Supports the Community in Gracanica
Lieutenant Colonel David Jones of the Defence Section has been supporting the community of Gracanica, not in just one way but two.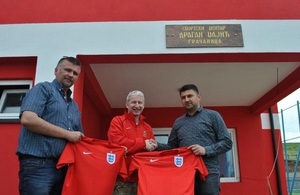 Colonel Jones has provided assistance to the Gracanica Dog Shelter, which houses in excess of 350 dogs. He was approached following his previous voluntary work with South Kosovo Dog Shelter and obtained two office containers from KFOR to be used as shelters for the dogs. Since receiving the containers, volunteer veterinarian surgeons from Slovenia have used them as operating rooms to carry-out surgery on sick animals.
Svetlana Bjelogrlic and Debra Adshead from the Gracanica Dog Shelter said:
We thank KFOR for the kind donation and also to Colonel David for his fantastic support and his great efforts to secure this resource for the shelter.
As well as supporting the shelter, Lieutenant Colonel Jones has also provided England football shirts, donated by the British Army Football Association, to FC Gracancia.
Club president Miodrag Dimitrijevic thanked Colonel Jones for the very kind donation and taking time to visit the club and said:
The shirts will be very useful for the club and we all appreciate this support.
Published 25 May 2015