British Army plays football match against German military
Held at Aldershot Town Football Club's home ground, the EBB Stadium, on Wednesday 23 May, the match saw the NATO allies pitched against each…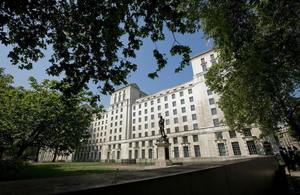 Held at Aldershot Town Football Club's home ground, the EBB Stadium, on Wednesday 23 May, the match saw the NATO allies pitched against each other for 90 minutes.
Despite a long history of military co-operation between the UK and Germany, the fixture marked the first time the teams had met in an official match. As expected, the game was fiercely competitive, with plenty of goal-scoring opportunities on both sides.
When the British Army had a man sent off in the 54th minute, a victory for the Bundeswehr (German Armed Forces) looked likely. However, not content to sit back and defend, the British soldiers launched several attacks on the German goal, right up until the dying minutes of the game.
In the end, neither side could gain the upper hand, and the match ended in a diplomatic 0-0 draw. And, as the match was a friendly, there was no need for the dreaded penalty shoot-out to decide the outcome on this occasion.
Warrant Officer Class 2 Simon Bell, Assistant Coach of the British Army team, said:
I thought it was a great chance for us to play football tonight.

We've learnt a lot of good stuff. There was a bit of pressure with it being an international game but I'd have been disappointed if the lads had let the hype get to them.

We train for stressful situations," he added.
Paying tribute to the German side, WO2 Bell said:
You can see how well-organised the German team are. When the ball's in a certain area of the pitch everyone's getting into position, and they use a lot of triggers and set-plays.
Acknowledging the fresh talent that was on display among the junior members of the British side, he said:
A lot of our young lads came in and did well. I hope it's something we can do again in the future.
Several hundred people turned out to watch the match in glorious sunshine, sportingly applauding both teams' efforts.
Following the success of the game, hopes are high on both sides to make it a regular fixture on the military footballing calendar.
Published 25 May 2012