British Army medics train their Afghan colleagues
Royal Army Medical Corps personnel stationed at Forward Operating Base (FOB) Shawqat are mentoring medics from the 1st Kandak of 215 Maiwand…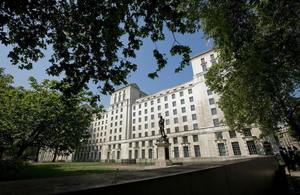 Royal Army Medical Corps personnel stationed at Forward Operating Base (FOB) Shawqat are mentoring medics from the 1st Kandak of 215 Maiwand Corps of the ANA, advising them on medical skills ranging from treating common ailments to combat-related injuries.
Whenever the Afghan medics receive a patient needing care their British counterparts are nearby, offering advice and guidance on the appropriate treatment. As time goes by the Afghan medics are developing their skills at an impressive rate.
Sergeant Mick Potts, who is serving with 16 Medical Regiment, Royal Army Medical Corps, explained:
Most mornings, unless we have some operations going on, we see what patients are presented at the Afghan medical facility. When the Afghans are able to run the sick bay by themselves we let them; but if not, I'll intervene or assist them in any way they need.
Sergeant Potts stressed the importance of such partnerships across Afghanistan; having high-quality medical support not only improves the morale of troops - Afghan and ISAF - working in the camp, but also improves the soldiers' performance when working in the field.
Sergeant Potts added:
When the Afghans know they've got a medical facility that they can rely on, it is much easier for them to prepare to take the fight to the enemy. They know they'll be well looked after by their guys and evacuated to a safe place if something does happen.
Sergeant Abdul Ghafar, an ANA medic with the 1st Kandak, said he was particularly grateful for the medical facilities ISAF has provided for FOB Shawqat medics. The ANA have access to their own sick bay, stocked with medical equipment and supplies that allow them to treat most combat-related injuries.
Sergeant Ghafar said:
In addition to constantly training us, our advisors have provided us with our own medical facility. We take care of more patients now and provide better treatment for them.
Sergeant Matallah, another ANA medic with the 1st Kandak, echoed Sergeant Ghafar's feelings on having access to functioning medical facilities.
Sergeant Matallah said:
It is extremely important that the ANA at FOB Shawqat have medical facilities. Even though I believe I now have great skills as a medic, good treatment for the soldiers depends a lot on the facilities and equipment we can use.
Published 14 December 2010