British Army medics train Afghan nurses
Three British Army medics serving in Afghanistan's Helmand province have begun teaching their skills to a group of Afghan nurses, who will form the basis of a pioneering new ambulance service.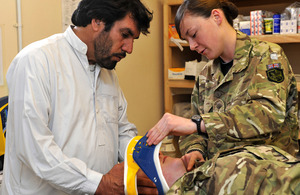 Five local nurses from the provincial capital Lashkar Gah have recently completed a nine-day course to qualify as 'patient transfer specialists'.
The course is part of an ongoing effort to train up enough nurses to enable the launch of the first ever professional ambulance service in the city.
Medics Captain Robert Garbett, aged 48, Lance Corporal Fiona Ross, 22, and Private Megan Paynter, 19, gave the five Afghans instruction in some of the techniques used by paramedics in the UK.
Injured locals are often brought to the military-run medical centre for initial treatment and then, once they are stabilised, transferred to a locally-run hospital.
But the nearest hospital is a 15-minute drive away and the aim is to improve the care of patients on this journey.
The initiative has been organised by Helmand's Directorate of Health in conjunction with the UK-led Helmand Provincial Reconstruction Team (PRT).
In addition to the training course run by the three Army medics over a period of three weeks, the PRT has also produced a handbook which has been translated into the Afghan language of Dari.
In recent days, the team has also handed over around £1,500 worth of ambulance equipment - enough to fit out three vehicles with spinal boards, head locks, resuscitation equipment, splints and other items, turning them from ordinary vans into ambulances.
Mohammad Hanif, one of the participants, said:
I found this course very useful. As nurses, often we are faced with emergencies like heavy bleeding due to injuries, airway blockage, broken limbs and burns.
Now I am confident enough to handle such a situation skilfully.
Captain Garbett said:
The course introduces the trauma care skills developed by the British military to local nurses.
The emphasis is on the safety of people being moved between hospitals but the knowledge and skills also help the nurses when they attend incidents in the area.
We have taught 12 nurses so far on this tour and hope to work with at least another dozen in the near future.
We are also setting out plans to ensure the Afghans can take this initiative forward themselves, as British forces start to draw down in the future.
Captain Garbett is a reservist and his usual job is as clinical site manager for Shrewsbury and Telford Hospital NHS Trust, based at Princess Royal Hospital, Telford.
In Lashkar Gah, he is the nursing officer, while Lance Corporal Ross, also a reservist, and Private Paynter, a regular soldier, are combat medical technicians. Both Captain Garbett and Lance Corporal Ross have served previous tours of Afghanistan, in 2008 and 2009 respectively.
For all three of the medics, running the training is very much a secondary duty.
Most of their time is spent treating and providing the whole range of medical care for British and other ISAF servicemen and women, as well as receiving local people who have been injured in accidents and fighting across Helmand province.
Lance Corporal Ross explained:
The range of patients we deal with is large. We provide care for primary healthcare patients, the type who would be seen at a GP's surgery at home.
We also care for injured Afghan civilians before they are transferred to local hospitals, and then there are the odd cuts and scrapes that happen around the camp.
Private Paynter added:
We use all the latest British Army medical kit, like combat application tourniquets, Celox, which is an advanced way of stopping bleeding, and the new field dressings.
We also have electromedical equipment for observing and assessing patients.
We have a really good, professional team.
This is my first tour in which I am actually doing my job - getting hands on, from leading traumas to transferring them to local hospitals.
I am getting a lot of experience here from trauma to primary healthcare.
Published 31 March 2011