World news story
British army infantry platoon participates in RAPID TRIDENT 2013
British military took part in the multinational US/Ukrainian full-spectrum exercise RAPID TRIDENT 2013.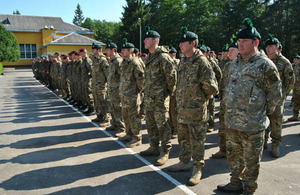 The 34-strong British 2 Platoon, A Company, 1st Battalion The Royal Irish Regiment (1 R IRISH) - comprising a junior officer, NCOs and other ranks - have just participated in the multinational US/Ukrainian full-spectrum exercise RAPID TRIDENT 2013 between 8–19 July in Yavoriv Training Area near Lviv, Western Ukraine.
1 R IRISH is an Air Assault Infantry Battalion in the UK Regular Army where it is part of 16 Air Assault Brigade, the largest Brigade in the British Army numbering 8,000 personnel, comprising airborne and air manoeuvre forces with organic attack helicopter support.
The Royal Irish Regiment was founded in 1689 and is the last Irish infantry regiment in the British Army. More recently, they participated in operations in Iraq and Afghanistan and currently have troops deployed to Mali in support of the EU training mission.
Exercise RAPID TRIDENT 13 was a resounding success, allowing operational sub-units from various nations to practise a variety of skills and improve their interoperability. The soldiers from the 2 platoon 1 R IRISH were able to learn lessons from their NATO colleagues: from the Americans on patrolling and from Canadians on how to detect improvised explosive devices. They also took part in a week-long field training exercise, where they worked alongside Ukrainian, Moldovan, Polish and Romanian troops. 1 R IRISH soldiers were also accompanied by their Piper, whose musical renditions were most appreciated after training hours!
A large number of high-level visitors, including the British Embassy's UK Chargé d'Affairs, Mr Martin Day and Defence Attaché, Colonel Jeremy Burnell, were able to watch military serials and parachute drops as part of an elaborate Distinguished Visitors Day (DV Day) during the exercise. In one stance, the 1 R IRISH platoon defended a position, bringing in air and fires support, followed by a Ukrainian Mi-8 heli-borne Quick-Reaction Force reinforcement of the platoon's position and to bolster the counterattack.
Colonel Jeremy Burnell – British Defence Attaché - was impressed by the number and diversity of nations that had assembled at Ex RAPID TRIDENT 13 and the shared values and professionalism that they displayed. He said:
"Ex RAPID TRIDENT 2013 has once again proved a great success. Seventeen nations participated in this full spectrum US/Ukr-run PfP multinational field training and command post exercise. During the DV Day, excellent weather allowed many ambitious 'air manoeuvre' serials to take place. The wide international participation was particularly appreciated by the Ukrainian Exercise Directing Staff from Yavoriv Peace Support Training Centre, who seek to improve Ukrainian tactical 'interoperability' with their NATO and EU counterparts for global multinational Peace Support Operations. 2 Platoon, 1 R IRISH displayed great professionalism during their serials and set a fine example throughout the exercise. The soldiers have clearly enjoyed themselves both on and off the field, taking advantage of Ukraine's rich cultural heritage with equal enthusiasm, which is important. Whilst Ukraine is not routinely associated as a British military field training venue, this opportunity has been eagerly accepted, purposefully undertaken and seems to have delivered in all respects. 2 Platoon, 1 R IRISH have performed with distinction, their participation has been widely-admired and they are a credit to their Regiment, 16 Air Assault Bde and the British Army in general".
Major Mike Potter, A Company Commander said:
"Exercise RAPID TRIDENT 13 has been a very important exercise from Britain's point of view. The training has been a chance for us to work alongside Ukrainian troops as well as other friends and allies. In operating together we have learnt much from each other. This will be useful in the future for both the British soldiers and I am sure for others that we have trained with"
Lieutenant Ant Kirkham, 2 Platoon Commander 1 R IRISH said:
"The exercise has been very rewarding. It is not often we get to see other armies in action but Exercise RAPID TRIDENT 13 has been great for both undertaking demanding training but also for working alongside other professional soldiers from different countries. We have learnt lots and also thoroughly enjoyed ourselves".
Published 23 July 2013