British Army engineers give Afghan soldiers heavy equipment training
For the past eight weeks, the engineers have been teaching the Afghan soldiers how to operate various pieces of heavy machinery and carry out…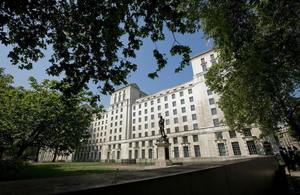 For the past eight weeks, the engineers have been teaching the Afghan soldiers how to operate various pieces of heavy machinery and carry out the tasks required of military engineers on operations.
As the ANA grows and the soldiers increasingly take responsibility for providing security in Helmand, there is a requirement for more infrastructure, whether that be new checkpoints or patrol bases.
At the moment, that work is done by engineers from the Task Force Helmand Engineer Group. However, in order to ensure that the ANA does not remain dependent on ISAF, soldiers from 24 Commando Engineer Regiment have been attached to the Brigade Advisory Group with the specific task of creating a team of specialist Afghan military engineers.
A total of 120 soldiers are being trained to form the ANA's Engineer Tolay (a company-sized unit). Eleven of the most senior engineers were selected to undergo the plant operating course which involved learning how to operate heavy lifting gear, diggers and trucks.
Major Paul Walters is the Officer Commanding of the Engineer Training Squadron. He said there were a number of challenges to overcome:
When the warriors [Afghan soldiers] first arrived, they had lots of experience of engineering but many of them couldn't drive. So we've had to go right back to basics. They were eager to learn though and, given their inexperience, what they've achieved is even more significant.
After completing their training and passing the course with flying colours, the Afghan engineers were presented with certificates confirming their achievements in a ceremony at the ANA's Helmand base, Camp Shorabak.
Lieutenant Mirza Mohammed was one of the Afghan soldiers on the course:
The training from ISAF to the ANA has gone really well," he said. "It's the first time I've been trained like this and it has been really good.
Over the coming weeks, the Afghan engineers will put their new skills into practice when they rejoin their units operating in various parts of Helmand province.
Engineering is just one of the skills that the Brigade Advisory Group are helping to train the Afghan soldiers in. Gunners, logisticians, counter-improvised explosive device experts, as well as medics and mechanics, are all being trained to expand the ANA's expertise in these particular areas.
Published 12 September 2011