World news story
British and Uzbek experts discuss climate security
Mr Ian Trim, Head of Climate Security Division in the British Embassy in Moscow paid an official visit to Tashkent on 29 and 30 July 2013.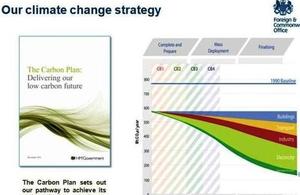 The purpose of the visit was to meet Uzbek officials and representatives of international organisations to discuss climate change related issues and to share UK experience in this field.
Mr Trim had a working meeting with officials from the Centre for Hydrometeorological Services under the Cabinet of Ministers, and the State Joint Stock Company "Uzbekenergo". He delivered a presentation on UK's approach at the level of policy and implementation to reducing greenhouse gas emissions and to adaptation to the impacts of climate change. The presentation included an explanation of the measures taken in the UK to encourage greater energy efficiency, and how energy efficiency measures and the growing "green economy" are contributing to economic growth in the UK.
In the course of his visit Mr Trim also met members of the Alternative Energy Club (a group of young businessmen and scientists who support sustainable energy development in Uzbekistan), UNDP climate change experts, USAID and World Bank officials to get a better understanding of what is being done in Uzbekistan to address the problems of climate change and how the UK and Uzbekistan might cooperate in this field.
At the end of his visit Mr Trim said: "I have had a number of productive exchanges with Uzbek and international counterparts on a range of important issues related to climate security. These are areas where we have a shared interest in taking effective early action, and where we can usefully continue to share views and experience."
Published 31 July 2013