British and French soldiers train together at Otterburn
British and French soldiers have been taking part in a training exercise this week at the Otterburn Training Area in Northumberland as part of the continuing relationship between French and British Army units.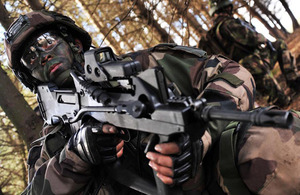 The British soldiers are from 5th Battalion The Royal Regiment of Scotland (5 SCOTS), while the French come from the 8th Marine Infantry Parachute Regiment, a unit of the French 11th Parachute Brigade.
They have been training together on Exercise Boars Head, a company level live firing exercise which builds on the two countries' military co-operation following the signing of the Defence and Security Co-operation Treaty by Prime Minister David Cameron and French President Nicolas Sarkozy in November 2010.
Officer Commanding A Company, 5 SCOTS, Major Neil Brown, explained the rationale and purpose of the exercise:
During November 2010, on the eve of the events that happened in Tunisia, Egypt and Libya, the Prime Minister and French President signed a security co-operation treaty.
The Prime Minister and President Sarkozy created a joint mechanism to address outside threats against the UK and France. Its purpose was to save expenditure on weapons, and to form joint expeditionary forces.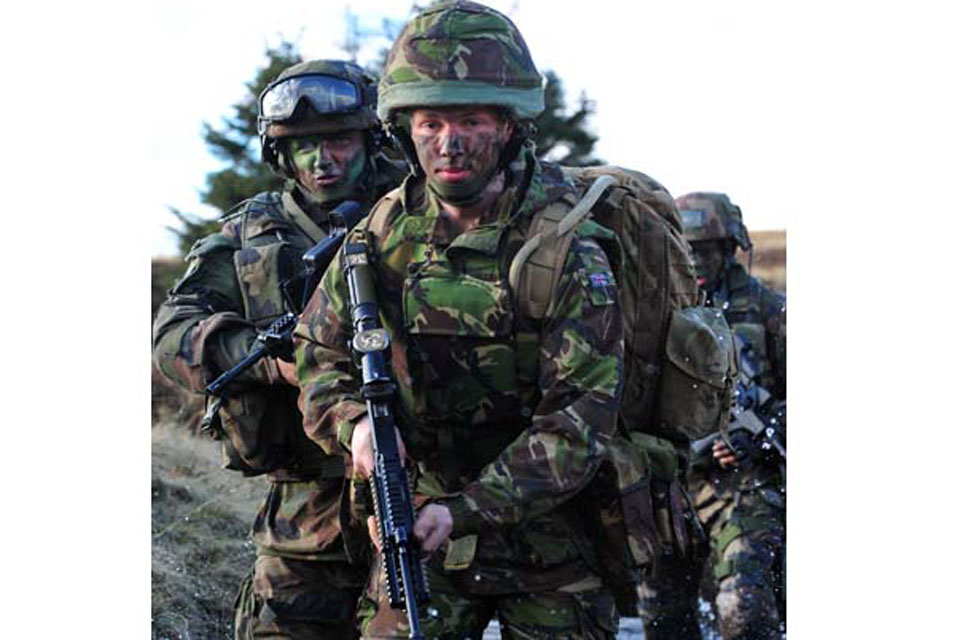 Explaining the latest exercise Major Brown continued:
5 SCOTS and 8th Marine Infantry Parachute Regiment exchanged different methods of military tactics used by the two armies to make it easier for both formations to train, and ultimately serve in future conflicts together.
The training involved a wide range of live firing exercises, from platoon to company level, and supporting weapon systems, and saw the French company conducting live fire attacks supported by a British fire support team in a demanding environment.
See the Gallery at Related Links for more pictures from Exercise Boars Head.
16 Air Assault Brigade, of which 5 SCOTS are a part, have been tasked with building an operational partnership with the French 11th Parachute Brigade, with particular focus on contingency operations as the UK returns 16 Brigade to contingent capability.
16 Air Assault is the British Army's largest brigade, with 7,400 soldiers, and combines the speed and agility of airborne and air assault troops with the potency of Apache attack helicopters.
The brigade deployed to Afghanistan between October 2010 and April 2011 and since its return has focused on its core role as the Airborne Task Force, ready to deploy on operations anywhere in the world at short notice.
Commander Land Forces, General Sir Nick Parker, and his French counterpart, Lieutenant General Hervé Charpentier - Commander Forces de Terrestres, visited the training area on Thursday 16 February 2012.
General Parker said:
The UK-France summit being held in Paris today, Friday 17 February, will provide ministers with the opportunity to review progress since the treaties were signed in 2010 and announce new areas of co-operation.
France like the United Kingdom is one of the few nations with both the capability and will to deploy overseas. Their Armed Forces are a similar size to ours and have similar capabilities, and the ability to operate together in the future will be important for both nations.
Exercise Boars Head demonstrates the UK's ongoing commitment to working with the French and is part of a wider programme of reciprocal training events being run both here in the UK and also in France.
5 SCOTS visited France in December 2011 and took part in a joint exercise with a French Army unit at CENZUB, the French Armed Forces purpose-built urban warfare centre.
Published 17 February 2012