British and Danish troops assist mayor to clean up Gereshk
Gereshk, the economic centre of Afghanistan's Helmand province, is being transformed from an area blighted by rubbish to a clean and tidy town, open for business and ripe for development.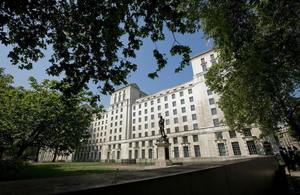 The ambitious task is being co-ordinated by the British-led Military Stabilisation Support Team (MSST), part of the UK-led Helmand Provincial Reconstruction Team, plus a team of Danish soldiers responsible for security in the northern Nahr-e Saraj district of Helmand.
The project was conceived by Mayor Said Dur Ali Shar who is keen to develop Gereshk and improve its services.
He approached the MSST and a plan was devised under which the area would be split into four sectors, and a team of 45 workers, two supervisors and eight vehicles would rotate weekly, cleaning each sector in turn.
A suitable location for a landfill site was identified on the edge of the Absharak wadi, in the north west of the town, and a local contractor was appointed to excavate a hole large enough to accommodate all the collected rubbish. Across the town, 160 rubbish collection points were installed.
Work on clearing the streets began last week under the oversight of MSST staff who visited the first sector to check on progress.
Warrant Officer Class 2 Pete Dunn, who was amongst them, said:
By the time we arrived, work was well under way. The rubbish was being piled up by the workers and the vehicles were loading it and transporting it to the landfill site. With the help of a Danish military interpreter, we also spoke to local shopkeepers who were aware of and approved of the mayor's project.
It was a very positive reception, proving that the project was a worthwhile venture.
Once all four sectors of the town have been cleared, it is planned to re-evaluate the manpower and restructure the programme to maintain cleanliness across the town.
New signs will also be put up and the locals educated to dispose of rubbish appropriately in light of the new system.
Major Bryony Bryan, Officer Commanding the MSST in Nahr-e Saraj (North), said:
This has all been really positive. The mayor of Gereshk has identified a problem which is easily solved, but will have a great impact on the lives of the people living in Gereshk. As the locals see the benefits of clean streets, it is hoped they will have pride in their town to maintain it.
Published 5 November 2010