World news story
British and Canadian Embassies in Peru sign Memorandum of Understanding (MoU)
British and Canadian Embassies sign MoU to support the cooperation of emergency planning and management in Peru.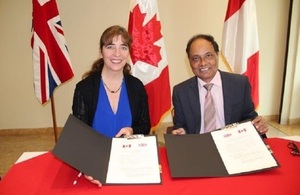 British Ambassador Anwar Choudhury, representing the British Embassy in Lima, and Ambassador Gwyneth Kutz, representing the Embassy of Canada to Peru, were pleased to sign a MoU to support the cooperation of emergency planning and response in Peru. The ceremony took place on 12 January at the Embassy of Canada in Lima. This MoU on Emergency Management defines the areas in which both embassies may cooperate during future emergencies in Peru.
Peru is located in an active seismic zone on the Pacific Ring of Fire, where natural disasters are among the principal risks. Consequently, the MoU outlines a number of measures in support of emergency response and critical business continuity needs in a post-disaster environment in Lima including, office space and resources for communication/technology, water, food and consumables as well as fuel and transportation.
The consular sections from both embassies have been working closely together for many years to coordinate responses during consular emergencies and to share resources. The close relationship has been a benefit to both British and Canadian citizens. The MoU formalises the commitment both missions have to ensure a collaborative response to any emergency in Peru.
Going forward and to take full benefit of this MoU, the Embassies look forward to participate in each other's crisis management training when opportunities arise.
Document information
Published: 13 January 2017