British and Afghan troops take on insurgency in Gereshk
More than 280 British troops joined forces with 690 warriors from the Afghan National Army (ANA) and patrolmen from the Afghan National Police…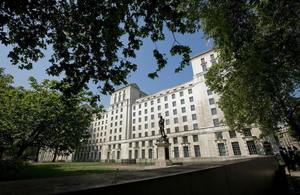 More than 280 British troops joined forces with 690 warriors from the Afghan National Army (ANA) and patrolmen from the Afghan National Police to clear insurgents from the area north of the bustling town of Gereshk in Nahr-e Saraj district.
Making this commercial hub secure is a priority for Afghan forces in the coming year and has become the main focus for current operations.
Nahr-e Saraj is one of the three districts in Helmand where British troops are deployed - and the last where Task Force Helmand retains the lead for security following the transition of Nad 'Ali and Lashkar Gah.
Operation ROZI ROSHAN, or 'Bright Day', was planned by Afghan National Army staff and led by Brigadier General Sherin Shah, Commander of the 3rd Brigade of 215 Corps.
It is the third major ANA operation in three months and is part of a larger Nahr-e Saraj security plan called Operation SHAMALI KAMARBAND.
Troops from the International Security Assistance Force (ISAF) advised Afghan soldiers and headquarters staff throughout the operation, which saw Afghan engineers, advised by sappers from 35 and 38 Engineer Regiments, build six new checkpoints to protect a transit route between Gereshk and the town of Rahim Kalay.
The ANA's 3/215 Brigade is mentored by 2nd Battalion The Rifles (2 RIFLES), and Riflemen from 2 RIFLES joined their Afghan colleagues on the ground alongside troops from 1st Battalion The Yorkshire Regiment, the Queen's Royal Hussars, the Royal Engineers, and the Danish Army, whose troops are responsible for security in the area.
The soldiers on the ground were also boosted by counter-improvised explosive device teams, search dogs and intelligence and surveillance capabilities.
Afghan warriors reported finding over 40 IEDs and component parts which were destroyed by the ANA's own bomb disposal specialists - the explosive ordnance disposal operators and explosive hazard reduction teams.
Captain Edward Willing, from 2 RIFLES, said:
This operation was well-planned and executed and has expanded the security bubble north of Gereshk.

This has, yet again, demonstrated the ANA's ability to conduct large and complex independent operations in conjunction with the Afghan Police with only limited support from ISAF.
Brigadier General Shah said:
The ANSF [Afghan National Security Forces] are ready to provide security for the people of this area.
My message to those who are fighting against our government is to come and join the peace process, as this can be the only solution.
Brigadier Patrick Sanders, the Commander of the British-led Task Force Helmand, said the operation was a vital step towards providing security in the area. He said:
This was the second major operation conceived, planned and led by Afghan forces in the space of a month and follows the success of Operation ZAMESTAANI PEEROZI.
Published 7 February 2012