British and Afghan troops raid Taliban bomb factory
British troops and Afghan police have taken advantage of a tip-off from local people to raid a bomb factory in what was once a Taliban stronghold.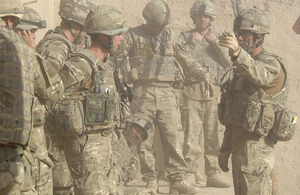 Following information provided to the Afghan National Police (ANP) by members of the public in the Kunjak area of Helmand province, near Lashkar Gah, the police, backed up by soldiers from The Royal Highland Fusiliers, 2nd Battalion The Royal Regiment of Scotland (2 SCOTS), stormed the suspicious compound.
Just last month the insurgency held an iron grip on this community and local people were unwilling to talk to the police for fear of reprisals - but a series of patrols over the last few weeks have established security and given locals the confidence to speak out.
Launching the attack in the early hours of the morning, the joint force discovered five ready-made pressure-plate improvised explosive devices in a completed state ready to be laid.
In addition, they discovered a 'directional fragmentation charge', a component designed to explode in a specific direction to cause maximum injury.
Some components were recovered for further analysis while the charges were destroyed in controlled explosions.
Lieutenant Tom Lambert, who was involved in the operation, said:
Two weeks ago, this area was a war zone. Now the people are so confident and on side that they actively helped us and the ANP find an IED factory.
Already 2011 is rapidly becoming a very bad year for the insurgents, but it's certainly got off to a good start for the people of Babaji.
Captain James Collinge added:
This operation dealt another blow to the insurgency campaign and has taken us another step closer to providing security for local people that the ANP will maintain in the long term. The insurgency is running out of supporters and running out of places to go.
Published 21 January 2011