British and Afghan troops patrol remote Helmand area
The operation, which was planned to show the population the abilities of the Afghan National Security Forces, was led by the Afghan National…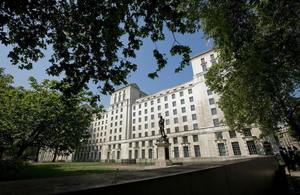 The operation, which was planned to show the population the abilities of the Afghan National Security Forces, was led by the Afghan National Army (ANA), with soldiers from A Company, 3rd Battalion The Royal Regiment of Scotland (The Black Watch) [3 SCOTS], in support.
The company-level operation, named TOR SEPHAR 37 or 'Courageous Shield', saw the troops dropped off by two Chinook helicopters in the Mohammed Abad Dashte area, in the south of the Nad 'Ali district of Helmand province.
The partnered forces patrolled through the Dashte area and held shuras with local Afghans on the issue of security, before they were picked up by helicopter.
Lieutenant Bobby Stewart, a platoon commander in A Company, said the operation had sent a powerful message to insurgents:
This was a deliberate operation planned and delivered by the ANA, and we were very happy to be able to support them.

The presence of the Afghan National Security Forces [ANSF] means a great deal to the people in the Dashte area and it sends a message to the insurgents that there is nowhere for them to hide as the ANA will patrol the whole of the area.
Lieutenant Gul Saide, the ANA commander on the ground, said the population had welcomed the operation:
It was a very good operation, and we were pleased to be able to show our support to the people in the Dashte area. We plan to come back here again soon.
The security provided by the ANA in the area is growing. The forces based at Patrol Base Kalang in the south of Nad 'Ali will soon move north to support other Afghan security forces and will then be replaced by another ANA company or 'tolay'.
Soldiers from A Company, 3 SCOTS, who took over from X Company, 45 Commando Royal Marines, also recently handed over responsibility for a key checkpoint called Sahash in Nad 'Ali to Afghan security forces.
Major Rob Hedderwick, the Commander of A Company, said the handover of checkpoints was key to the transition of security to Afghan control:
Since we have taken over this area we have seen significant improvements in the local security forces," he added.
"Both the Afghan National Army and Afghan Police are proving that they can take responsibility for their own security without ISAF assistance, and it is with great pleasure that we hand over Sahash to the Afghan Local Police. > > The good relationship built up with both the people and the ANSF in the area by the Marines has been key to our early success here.
Published 15 November 2011