British and Afghan forces launch operation in central Helmand
British and Afghan forces, led by 1st Battalion The Duke of Lancaster's Regiment, launched an operation this morning to continue the momentum generated by Operation MOSHTARAK and further squeeze insurgents in central Helmand.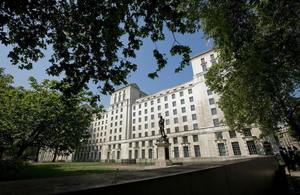 Operation TOR SHEZADA - Black Prince - has been planned and is being executed by ISAF forces working hand-in-hand with their Afghan counterparts.
The operation involves British troops partnering Afghan forces from 3rd Brigade, 215 Corps, to clear insurgents from Sayedabad to the south of Nad 'Ali in Helmand province and prevent them from being able to use the area as a base from which to launch attacks.
In parallel, similar operations by the United States Marine Corps are being conducted in northern Marjah.
Spokesman for Task Force Helmand, Lieutenant Colonel James Carr-Smith, said:
Operation TOR SHEZADA will continue the momentum generated by Operation MOSHTARAK earlier this year.

Its aims are very much supported by local Afghans living in and around the area of Sayedabad. They are keen that insurgents be removed so that they can live, work and travel there safely.
Our intent is such that this activity will increase the distance between the population and remaining insurgents - it will further dislocate insurgents and deny them a base from which to attack the Nad 'Ali and Marjah areas, making the local population safer and reducing the threat to ISAF and ANSF [Afghan National Security Forces] troops.

In time, the operation will enable the Afghan Government to begin development projects in the area, including the planned refurbishment of Sayedabad school, health clinic and bazaar.
The Commanding Officer of 1st Battalion The Duke of Lancaster's Regiment (1 LANCS) Battle Group, Lieutenant Colonel Frazer Lawrence, said:
We have scored major successes in the north and centre of the district, driving out the insurgents from the major population areas, and providing security to the Afghan people. Now we need to make sure that security is extended to every resident of Nad 'Ali.
Sayedabad sits between Nad 'Ali and Marjah in central Helmand. The area has a small community of around 6,000 Afghans, mostly from Pashtun, Ishaqzai and Hazara backgrounds.
**Soldiers from Somme Company, 1 LANCS, have taken up position in a local compound. See Related Links to watch video footage of their start to Op TOR SHEZADA on our official YouTube channel. **
The Trikh Zabur canal runs to the south of the area, with a crossing point which allows movement between Nad 'Ali and Marjah. Improved security around this important crossing point will increase freedom of movement for locals.
Although significantly smaller than previous operations in this area, Operation TOR SHEZADA will push insurgent fighters further from the population centres successfully cleared by previous elements of Operation MOSHTARAK.
It follows the same pattern of shape, clear, hold and build that has characterised the wider operation, and shaping operations have been carried out in preparation for it.
The Afghan Government will begin stabilisation activities as soon as conditions allow, including the refurbishment of Sayedabad school and health clinic.
The British-run Provincial Reconstruction Team in Helmand will support this activity with projects of its own, including 'cash for work' programmes which employ locals to develop their own communities.
Published 30 July 2010