British and Afghan forces find Taliban bomb factory
The haul of pressure plates, explosives and detonators is thought to be one of the biggest found by a joint ISAF and Afghan operation. Troops…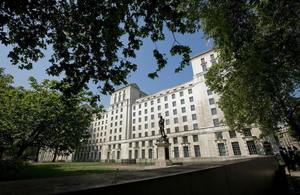 The haul of pressure plates, explosives and detonators is thought to be one of the biggest found by a joint ISAF and Afghan operation.
Troops from 1st Battalion The Rifles (1 RIFLES), 45 Commando Royal Marines (45 Cdo RM), 4th Battalion The Royal Regiment of Scotland (4 SCOTS), the Counter-IED Task Force (C-IED TF), and Afghan Warriors from 6th Kandak of 3/215 Brigade of the ANA, all played a part in helping to locate the components which were found in Agah Khel Kalay, a small village on the southern bank of the Nahr-e-Burgha Canal.
The British and Afghan forces have only been operating in the area for a few weeks, following Operation OMID HAFT which expanded ISAF's presence into what had been an insurgent stronghold. Since then, the troops have been maintaining security from their newly built Checkpoint (CP) called CP Salaang.
Already, their presence is having an impact. The initial information about a potential bomb factory was provided to the soldiers from local people, who are now less intimidated since the insurgents were pushed out of the area. It was then verified by the intelligence specialists of Y Squadron 30 Commando Royal Marines, and 4 SCOTS were directed to search a compound believed to contain the items.
Sergeant Finn Beary, who led the men towards the building, said:
The locals had given us the tip off about the items - something they're doing more and more now - and as soon as we entered the compound we could see what we thought were detonators. So, we called on the C-IED Task Force operators to come in, to carry out a thorough search with their specialist skills and kit.
To make sure they were safe to carry out their search without fear of attack, multiples of Afghan soldiers, Riflemen and Royal Marines were moved into the area to provide a cordon around the team.
Serjeant* Chris Wainwright, in charge of the team of Riflemen, said:
While we were patrolling, a local man came up to us and tipped us off that there was a large amount of material hidden in a haystack by the compound. We passed that information back to C-IED team who were able to concentrate their search.
The information from the local man had been right and a large amount of bomb making equipment was found. After several hours of meticulous searching throughout the compound, the operation had uncovered an unprecedented haul which included 44 pressure plates, 45 kgs of explosives, 81 detonators, reams of detonation cord, ammunition, battery packs and other bits and pieces which could be use to set off devices remotely.
Major Paul Kyte, 1 RIFLES, the Officer Commanding CP Salaang, said:
We are delighted with this find which will deal a direct blow to the insurgents' ability to target innocent civilians, Afghan and ISAF forces locally and more widely across the Task Force Helmand area of operations. It is a result of the combined efforts of a newly formed team, and reflects the agility and speed with which our soldiers and ANA partners can react to our ever-developing intelligence picture in order to out-think and out-manoeuvre a cunning and vicious enemy.
* The spelling of Serjeant with a 'j' is a military tradition peculiar to The Rifles.
Published 22 June 2011