British and Afghan forces enter Sayedabad
British and Afghan forces involved in the latest push against the Taliban in central Helmand yesterday entered the town of Sayedabad, the main objective of Operation TOR SHEZADA.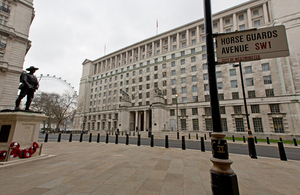 Under the cover of darkness on Day 4 of the operation, Monday 2 August 2010, soldiers from Somme Company, 1st Battalion The Duke of Lancaster's Regiment (1 LANCS), 1st Battalion The Royal Regiment of Scotland, 21 Engineer Regiment and the Counter-IED Task Force patrolled carefully through fields and waist-deep irrigation ditches to reach the outskirts of the town.
In a swift move, under the protection of fire support provided by troops out to the east, two compounds to the south of the village were cleared of possible insurgents and IEDs.
Major Darren Newman, Officer Commanding Somme Company, said at the time:
The Company along with our Afghan partners has cleared through Sayedabad and we have systematically cleared through each of the compounds looking for insurgent activity.
Once a foothold had been achieved and defensive positions established in the compounds, two joint units of British and Afghan soldiers moved forward, clearing through the town on the west and east sides from the south.
See Related Links for more images and video footage from Day 4 of Operation TOR SHEZADA as British and Afghan forces enter the town of Sayedabad.
At each stage, Afghan security forces were used to interact with the local Sayedabad population.
Major Newman continued:
As we have pushed through we've found nothing to suggest the Taliban have been here in the last 48 to 72 hours.

It appears the presence of overwhelming forces from ISAF and the ANA [Afghan National Army] has effectively meant the insurgents have fled out of this area before we arrived.

Local atmospherics appear to be good. The locals are welcoming and pleased with our presence," he added.
Once the village had been cleared, ISAF forces held a shura (a local meeting) with the elders of the town to explain what had been happening.
Major Newman said:
They've agreed to work with us in partnership to provide security here and clear the area of improvised explosive devices.
Their main concern was security. Clearly if we have a permanent presence here that is something we hope to address in the very first instance.
Security is the main focus for the International Security Assistance Force (ISAF) in the region. Although Sayedabad was free of insurgents, as the shura was taking place heavy gunfire could be heard some 800m to the north as Corunna Company, 1 LANCS, continued its push south to open up the road between Sayedabad and Nad 'Ali.
The road continues to present a heavy IED threat to ISAF forces and the local population.
Major Newman concluded:
We'll now look to consolidate our position and start searching for improvised explosive devices in the vicinity of the local compounds and routes in and out. Where we find them we'll remove them.
Published 3 August 2010