World news story
Ramadan message from British Ambassador to Kuwait
On the occasion of the start of the Holy Month of Ramadan, British Ambassador sends his warmest wishes to Muslims across Kuwait and the world.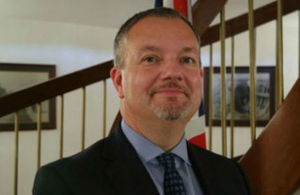 On this occasion, Her Majesty's Ambassador Matthew Lodge said:
At the beginning of the holy month of Ramadan, I am pleased to send you greetings and best wishes on behalf of the British Embassy in Kuwait. Ramadan is a very special and important time of the year: a time for reflection, tolerance, forgiveness and charity. It is also a time when families and friends come together.

The UK is home to a large and diverse Muslim community, many of whom will be fasting and sharing Iftar with their loved ones. The last year has seen the people of the United Kingdom further strengthen their historic friendship with Kuwaitis through the introduction of the new electronic visa waiver system. The system has made it faster and easier to visit the UK; to reconnect with old friends, visit family or make new connections. I look forward to enjoying the holy month with friends new and old.
During the holy month, the British Embassy working hours will be reduced, and the Embassy will be open from 8:30am to 2:30pm from Sunday to Thursday. Application submission at the Visa Application Centre (VAC) will be available from 9:00am to 2:30pm, while passport collections will run from 2:00pm to 3:30pm from Sunday to Thursday.
The British Embassy in Kuwait wishes you and your family a blessed time.
Published 8 June 2016