World news story
British Ambassador works for safer ski slopes in Switzerland
The Ambassador to Switzerland and Liechtenstein and his team have been working for the safety of British tourists on the Swiss slopes.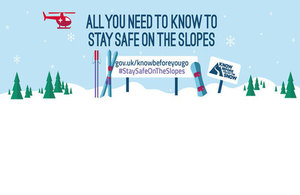 Switzerland is a popular and traditional winter holiday destination for British tourists. Every year around 700 000 British tourists visit Switzerland and many of them come to enjoy winter sports. Every winter the Consular team at the British Embassy in Berne provide assistance to British nationals who are injured following winter sports related accidents in Switzerland. This year the team are encouraging British tourists spending their holidays in the Swiss mountains to follow some top tips in order to stay safe on the slopes. David Moran, British Ambassador to Switzerland and Liechtenstein explains that "with our "Top Tips to Stay Safe on the Slopes" we hope to make as many people as possible aware of specific dangers linked to winter sports so that their trip remains fun and trouble free." The Consular Team are working closely with cable car companies in the main tourist resorts to distribute our top tips to British holidaymakers. Ambassador Moran has also joined the campaign by video to remind people of some of our most important messages.
Stay safe on the Swiss slopes this winter
Our top tips for a safe ski holiday
Take out insurance – and check what it covers. It might not cover off piste skiing unless you are with a qualified guide.

Have a medical check-up before you ski – one of the major causes of hospitalisation and death on the slopes is heart attacks.

Don't drink and ski. Alcohol can affect you more quickly at high altitudes and dangerously limits your awareness of risk and cold. Drinking and then skiing also risks invalidating your travel insurance.

Most skiing injuries are caused by collisions with other skiers – watch your speed and distance.

Don't attempt slopes you're not experienced or fit enough to tackle, even if you're encouraged or pressured to do so by friends.

If going off piste, carry a shovel, a probe and a transceiver in case of an avalanche. Also remember that you need proper training on how to use a transceiver.

If you are going out on a glacier, you must wear a harness. If you fall into a crevasse, this will help the rescue team get you out.

Make sure someone knows where you're going and tell them of any changes to your plans.

Only go off piste skiing or climbing with someone you have met previously and can trust. You need to know their capabilities, what you'll be doing and where you'll be going.

Many insurers insist you wear a helmet. Protect your head and your policy.
Further Information
The current activity in the Swiss mountains is part of the Foreign and Commonwealth Office's Know Before You Go campaign which encourages British nationals to prepare for their foreign travel so they can avoid preventable problems. Click here for a full holiday checklist If things go wrong during your trip to the Swiss mountains, dial 144 or 112 for the Emergency services. If you need consular assistance, call our consular section in Berne under 031 359 77 00
Published 12 February 2015