World news story
British Ambassador welcomes Dominican music students
The Board of the Royal Schools of Music in London has just given the permissions needed for the implementation of the instrumental programme in the D.R as complement to the theoretical exams implemented in the country on 2010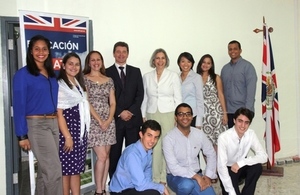 Steven Fisher, Ambassador of the United Kingdom of Great Britain and Northern Ireland in the Dominican Republic, received in his office, and congratulated for their achievements, the first group of Dominican students that will undertake the renowned instrumental exams of the Associated Board of the Royal Schools of Music of London (ABRSM).
The group of Dominican music students will travel abroad to take this important test in order to get the certifications with international endorsement that will allow them to continue with the ABRSM superior studies as the DipABRSM and LRSM, which are due to begin in the Dominican Republic by September 2014
As an important note, the Representative of the ABRSM in the country, Mrs Mia Vidal Corominas, announced that the Board of the Royal Schools of Music in London has just given the permissions needed for the implementation of the instrumental programme in the D.R as complement to the theoretical exams implemented in the country on 2010.
Therefore, all Dominican students and music schools will now have the opportunity to examine their instruments in the presence of a highly trained British jury that will visit our country every year to award the prestigious certifications.
The ABRSM, whose Patron is Her Majesty Queen Elizabeth II and its President HRH Prince Charles of Wales, is the leading authority on musical assessment, delivering their prestigious exams over 99 countries worldwide. The ABRSM has the authority of the U.K leading conservatoires and Colleges : Royal College of Music, the Royal Northern College of Music, the Royal Scottish College of Music and the Royal Academy of Music.
Published 25 February 2014